Plano Dentist Families Prefer

Family, Cosmetic & Implant Dentistry
Preston Bend Dental (PBD) offers exceptional dental care in a state-of-the-science facility, giving patients the best of all possible experiences. Dr. Anita Naik Madhav and her team are all committed to this ideal. With their training and access to the latest technology, they deliver an inimitable brand of dental care.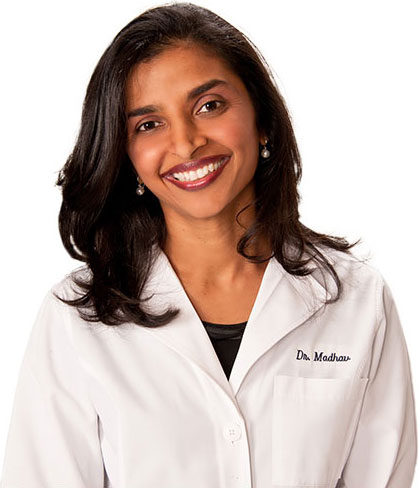 Meet Plano Dentist Dr. Anita Madhav
Dr. Madhav was born in Lusaka, Zambia, and was raised with the traditions of the small communities of that region - communities that, even today, value honesty, integrity, and trust. Dr. Madhav embodies these simple yet fundamental qualities, as evidenced by the way she treats her patients and the way she practices dentistry.
In 1988, Dr. Madhav left her home in Zambia to pursue her dental education in Oklahoma. She completed her undergraduate degree at South Western Oklahoma State University, and then enrolled at the Oklahoma University College of Dentistry. She also completed the highly selective Advanced Education in General Dentistry residency program, which gave her the opportunity to treat patients with diverse needs.
What Others Are Saying
"Excellent for all ages! The entire staff is so friendly, accommodating, and sees to it that you have a great experience. I took my two year old son who cries at the sight of a white lab coat. They made sure he was cared for in a way that suited his needs - balloons, no lab coats, and instead of cleaning his teeth in the chair, we took him to the bathroom so it would be more like home. Cannot say enough good things! Love them!"
Lexi G., Dallas, TX

"I have trusted my teeth to Dr. Madhav for nearly 20 years and cannot say enough. I have been repeatedly amazed by her impeccable skill, professionalism, attention to detail, personal follow up, and caring staff. The entire practice runs like a top from the moment a patient walks through the door - no waiting, friendly and knowledgeable care, direct communication, and a warm, welcoming environment. Dr. Madhav and staff truly are the best!"
Shannon A., Frisco, TX

"The staff was excellent and very educational on the processes. They approach everything with the client in mind. I like the fact they addressed the financial obligations before proceeding with any treatment so you could make a decision on what you could accept in terms of treatment updates."
LV, Plano, TX

Find Us
Preston Bend Dental
Anita Naik Madhav, DDS
7600 San Jacinto Pl,
Ste 100
Plano, TX 75024
(972) 618-1111
Office Hours
Mon: CLOSED
Tues - Thurs: 8am - 5pm
Fri: 8am - 3pm
Sat-Sun: CLOSED
Schedule an Appointment