Plano Dentist Families Prefer

Family, Cosmetic & Implant Dentistry
Preston Bend Dental (PBD) offers exceptional dental care in a state-of-the-science facility, giving patients the best of all possible experiences. Dr. Anita Naik Madhav and her team are all committed to this ideal. With their training and access to the latest technology, they deliver an inimitable brand of dental care.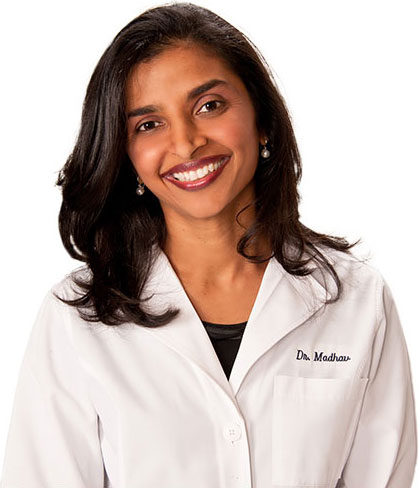 Meet Plano Dentist Dr. Anita Madhav
Dr. Madhav was born in Lusaka, Zambia, and was raised with the traditions of the small communities of that region - communities that, even today, value honesty, integrity, and trust. Dr. Madhav embodies these simple yet fundamental qualities, as evidenced by the way she treats her patients and the way she practices dentistry.
In 1988, Dr. Madhav left her home in Zambia to pursue her dental education in Oklahoma. She completed her undergraduate degree at South Western Oklahoma State University, and then enrolled at the Oklahoma University College of Dentistry. She also completed the highly selective Advanced Education in General Dentistry residency program, which gave her the opportunity to treat patients with diverse needs.
I had a cracked tooth. Called the office and was seen the next day( I was not in pain). Was in and out of the office in 30 minutes! If you want friendly,professional, spotless environment this is the place for you! I've been a patient of Dr. Madhav for 13 years now & still recommend her to all my family & friends:)
Staff is always kind and service is the best! Dr. Madhav is one of the finest skilled dentists in Texas! Her office has the newest and most cutting edge dental equipment. I will never go to another dentist! You get what you pay for and then some. I love my teeth and Dr. Madhav makes sure they look their best!
The staff was excellent and very educational on the processes. They approach everything with the client in mind. I like the fact they addressed the financial obligations before proceeding with any treatment so you could make a decision on what you could accept in terms of treatment updates.
Everyone was very friendly. I didn't have to wait long. They were great with my kids. They didn't try to push extra services onto my wife and I.
Overall, they are very customer focused and professional. I would definitely recommend them!
This was my first visit to this dentist. I was able to make a last minute appt without any problems. The doctor and staff were wonderful. I felt like I'd been a patient there for years. The office is beautiful and welcoming. I will definitely be going back for more work and I've already referred them to a friend of mine.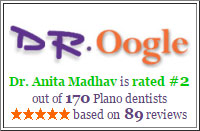 Find Us
Preston Bend Dental
Anita Naik Madhav, DDS
7600 San Jacinto Pl,
Ste 100
Plano, TX 75024
(972) 618-1111
Office Hours
Mon: CLOSED
Tues - Thurs: 8am - 5pm
Fri: 8am - 3pm
Sat-Sun: CLOSED
Schedule an Appointment