Dental Implants – Plano, TX
A Permanent Replacement with Unmatched Comfort and Function
Are you missing one or more teeth? Dr. Madhav offers a versatile restorative service known as dental implants to help patients in exactly your situation. With dental implants, you can have a complete smile again, allowing you to reclaim oral health and wellbeing. Dental implants have a crown-and-root structure that mimics the natural design of teeth. As a result, you can replace both your lost tooth and its missing root. This gives you a strong, stable, and lifelike completed smile that you can rely on. Keep reading to learn more about dental implants and their benefits.
Benefits of Dental Implants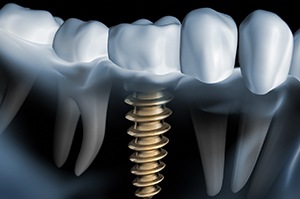 There are many tooth replacement options available, but in recent years, implant supported dental restoration has become the gold-standard. Some of the reasons that implants are the ideal tooth replacement solution for almost any patient include:
They are the only replacement option that restores both the tooth roots and visible portions of teeth, creating a natural looking, flawlessly functioning smile.
Traditional replacement teeth need to be replaced every five to ten years, but implant supported restorations last for two decades or longer.
In fact, implant supported replacement teeth have a success rate between 90 and 95% after 20 years.
Traditional dentures only replace about 20% of healthy dental function, but implant dentures restore 70% or more chewing ability. This means you can eat all of your favorite foods without worrying about slipping or sliding dentures.
Implant supported restorations look much more like natural teeth, and the stimulation provided by the implant posts also maintains the shape and volume of supportive tissues. This means you won't see the sunken facial features that traditional denture wearers tend to struggle with.
Other tooth replacement options rely on surrounding healthy teeth and oral structures for support, but implant restorations are fully self-supporting, protecting healthy oral structures.
Indications for Dental Implants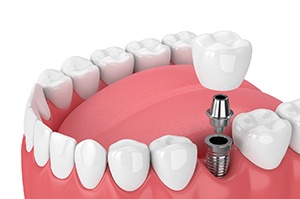 Dental implants can be paired with a range of prosthetic options, from single crowns to bridges, partial dentures, and full dentures. This makes dental implants one of the most versatile restorative services currently available. Here are the ways that we can restore your missing teeth:
Missing One Tooth
If you've lost one tooth, we'll use one implant post to support a custom, tooth-colored dental crown. This flawlessly mimics the oral structure you've lost, leaving you with a beautiful and strong full set of teeth.
Learn More About Missing One Tooth
Missing Multiple Teeth
To replace several consecutive teeth, a fixed bridge may be attached to two implant posts. One implant will be placed at each end of the row of replacement teeth. For consecutive and nonconsecutive missing teeth, an implant retained partial denture may be a better option. Partials fill in the gaps between healthy teeth. These prosthetics are typically attached to between two and four strategically positioned implant posts.
Learn More About Missing Multiple Teeth
Missing All teeth
Following the loss of a full row of teeth, an implant supported denture may be your best option. Dentures can be supported by between four and six dental implant posts. This gives you a secure replacement of your full smile.
Understanding the Cost of Dental Implants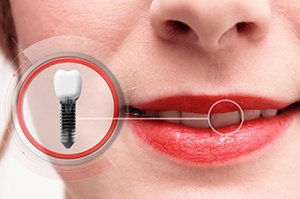 The only way to get an accurate estimate of the out of pocket costs of implant supported tooth replacement is to work with one of our knowledgeable team members during a dental implant consultation. There are many variables that impact the cost of your implant supported tooth replacement, including the number and location of missing teeth, materials used, implant and restoration manufacturer, and the need for preparatory treatments. Each step of the implant process – preparatory procedures, implant surgery, abutment placement, and restoration – will be billed separately to help you budget for the cost of treatment over several months. Whenever possible, we'll process and file dental insurance claims, and our team can often help you to find low and no interest financing options to break the cost of treatment into smaller payments.
Schedule a Dental Implant Consultation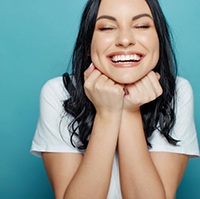 Would you like to learn more about dental implants? Call Preston Bend Dental in Plano to schedule a consultation with Dr. Madhav. During your appointment, we'll complete a thorough exam to determine your eligibility for the procedure. We offer complete implant care to patients from Plano, Frisco, McKinney, and all surrounding areas.