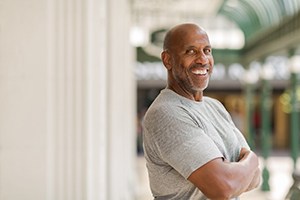 Missing a few little teeth can take a big bite out of your quality of life. If you're missing several teeth, you already know how tooth loss can make it difficult to eat comfortably, speak clearly, and smile confidently. As if that weren't enough, missing teeth can increase your risk of conditions like tooth decay, oral infections, and gum disease. At Preston Bend Dental, we'd be more than happy to seamlessly fill the gaps in your smile with a custom-made dental bridge in Plano! Read on to learn more about how this classic restoration can improve your smile.
What Are Dental Bridges?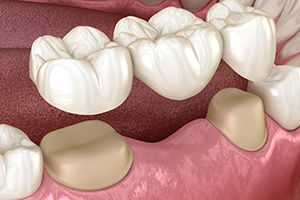 Dental bridges can replace one, two, or three missing teeth in a row with a single restoration. They consist of several lifelike replacement teeth bonded together in a row to recreate the missing portion of your smile. On either end is an all-porcelain dental crown that's fitted over the neighboring remaining tooth. This holds your restoration firmly in place and effectively "bridges" the gap in your pearly whites. Each dental bridge is custom-made from durable and lifelike materials for seamless results.
How Are Dental Bridges Placed?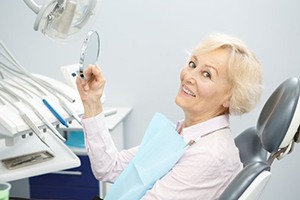 The process for placing a dental bridge will depend on what type you and your Plano dentist determine is best for you:
Traditional Dental Bridges
To place a traditional bridge, the remaining teeth on either side of the gap will need to have a small amount of enamel removed. Once there's enough space, the dental crowns on each side of the dental bridge are fitted over these teeth, securing the restoration. Typically, this can be completed in two simple appointments.
Implant-Retained Bridges
Alternatively, you may be able to anchor your bridge into place with dental implants. Instead of attaching the dental crowns to your healthy teeth, the crowns are placed on top of implant posts that are surgically placed into the jawbone. While this process takes significantly longer, the results have the potential to last a lifetime.
Understanding the Cost of Dental Bridges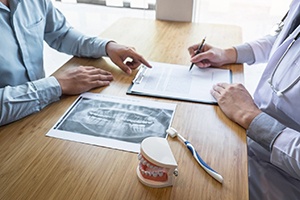 Your dental bridge will be custom-made to fit your unique smile. Its final cost will depend on several factors like how many teeth you're looking to replace, what type of bridge you're interested in, and if you need any preliminary treatments. While every dental insurance plan is different, many policies will cover 45-50% of the cost of major procedures like dental bridges. During your initial consultation, your Plano dentist will go over your personal estimate of costs and ensure that your dental insurance benefits are maximized.