Periodontal Therapy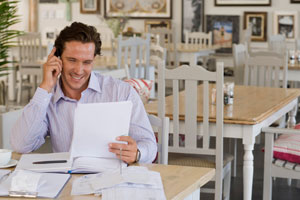 According to the CDC, half of American adults older than 30 have some form of gum disease. That means there are millions of patients out there in need of treatment. At Preston Bend Dental, we are committed to offering gum disease therapy using the latest tools and techniques. In the past, gum disease therapy could be invasive, but with today's advances, it's more comfortable than it's ever been.
What Is Gum Disease?
When bacteria and plaque accumulate along the gum line, they can irritate the soft tissues of your gums, causing sensitivity and bleeding when you brush. Interestingly, failing to brush and floss well or often enough is usually what causes gum disease to start. So if you do begin to see bleeding when you clean your teeth at home, don't stop! On the contrary, that brushing and flossing may be the key to reversing the initial effects of early gum disease.
Besides bleeding gum tissue, other symptoms of gum disease include:
Frequent bad breath
Loose teeth
Receding gum line
Tooth loss
Gum Disease & Your Overall Health
You might think that gum disease would just affect your oral health, but the truth is quite a bit more frightening than that. Left untreated, gum disease can have a serious impact on your total health and wellbeing. Studies have linked gum disease to problems like heart disease, Alzheimer's, stroke, diabetes, and pre-term delivery in pregnant women. Treating gum disease will help you improve your oral health and may safeguard your total wellbeing.
Effective Periodontal Therapy from Preston Bend Dental
Treating gum disease involves the removal of bacteria and plaque from the gum line. For some patients, this may be done with a dental cleaning by one of the hygienists at the dentist in Plano. After this, you will need to be particularly stringent about brushing and flossing at home. Plaque and tartar (hardened plaque) can quickly accumulate if you are remiss about your at-home oral hygiene routine.
For patients with a more advanced case, deep cleaning or treatment with antibiotics is required. Deep cleaning is also known as scaling and root planing. During this type of periodontal therapy in Plano, the dental hygienist uses special instruments to remove the tartar from the surfaces of your teeth as well as below the gum line. Deep cleaning targets the enlarged gum tissue pockets that exist between the teeth and gums. These pockets are created as your soft tissue recedes because of worsening gum disease. Scaling removes plaque and tartar and root planing smoothes tooth roots. Once smoothed, tooth roots are less receptive to sticky plaque and tartar.
Are you looking for a dentist who can help you treat gum disease? Call Preston Bend Dental to reserve your appointment with Dr. Madhav, the "dentist in Plano near me." We're happy to provide gum disease therapy to Plano, Frisco, McKinney, Allen, The Colony, Far North Dallas and surrounding communities.