Dentures - Plano, TX
Your dentist in Plano provides full and partial dentures for patients dealing with tooth loss. Gaps in the smile cause problems eating, speaking, and smiling with full confidence -- but dentures are a sturdy, natural-looking choice. Learn more about the tooth replacement option, including whether or not it's the right solution for you, today!
The Need for Tooth Replacement
Even just one missing tooth can have a serious effect on your oral and overall health. People dealing with tooth loss may suffer from poor nutrition, as chewing items like fresh fruits and vegetables or lean protein becomes more difficult. And without something filling the gap left by missing teeth, the surrounding natural teeth may drift out of place, causing orthodontic issues. Tooth decay and gum disease are more common in people who are missing one or more teeth, too.
Tooth replacement is crucial for your health and wellbeing -- and dentures provide an effective, affordable solution.
How Dentures Work
A denture is a set of prosthetic teeth attached to a gum-colored base. They have been used to replace teeth for centuries -- and today's dentures are more attractive, work better, and are sturdier than ever before. A full denture replaces an entire row of missing teeth in the top or bottom of the mouth. A partial denture fits securely in with surrounding natural teeth, much like a missing puzzle piece. Dentures may be held in place using suction (for full dentures), or with clasps or brackets (for partials).
Implant-Retained Dentures
Dental implants provide unsurpassed stability for full and partial dentures, but not everyone is a good candidate for the treatment. At Preston Bend Dental, we are happy to complete the entire procedure for dental implants from the comfort of our state-of-the-art office. Discuss your eligibility for dental implants with your dentist.
Dental implants come with a number of benefits for denture wearers -- mainly maximum stability and improved oral health. Our bones need stimulation to thrive, and the dental implant provides the activity needed to keep the jawbone healthy and whole. That means that dentures supported by dental implants will fit the way they should for years after their placement. When cared for properly, your dental implants can be expected to last a lifetime.
You and your dentist will discuss your options in denture retention to decide which is best for your smile.
Getting Used to Your Dentures
It will take some time to adjust to your new denture -- especially if you have been without teeth for a while. The prosthetic teeth renew your ability to eat what you like, but you may need to start off cutting food into smaller bites. Practice reading aloud to yourself to get used to speaking with a denture. Most people who wear dentures find that they have adjusted to their new teeth after a few weeks of continued use.
Understanding the Cost of Dentures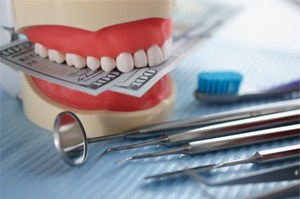 Even if you want dentures, their price might concern you. Fair enough – a procedure that "breaks the bank" wouldn't be helpful. In reality, though, the cost of dentures varies from patient to patient. You'll have to consult our dentists for a precise treatment estimate. Still, you can trust Preston Bend Dental to provide affordable care. To that end, we'll walk you through dentures' cost factors and our available payment options. If you'd like to learn more, just keep reading or call our office for details!
Factors That Affect the Cost of Dentures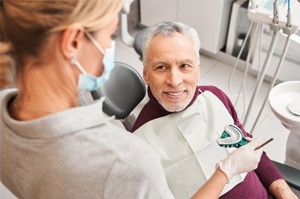 During the consultation, our team will assess if dentures are right for you. This process will (among other things) review the factors relevant to your treatment's price. These three elements are the following:
Denture Base Material – Depending on the acrylic used, a denture's base can cost more or less. More durable and lifelike ones, naturally, are more expensive.
Replacement Teeth Quality – In most cases, a denture's artificial teeth are made of acrylic or porcelain. The former material is cheaper but wears quickly, while the latter costs more but is longer-lasting.
Need for Prep Work – Dentures are pricier if you need preparatory services before getting them. For example, pulling a tooth before receiving the prosthetics will add to your costs.
Even as Dr. Madhav explains these factors, remember: don't just opt for the cheapest dentures. Those that cost the least use subpar acrylic for their bases and teeth. As such, make sure the dentures you choose are high-quality and effective!
Are Implant Dentures More Expensive?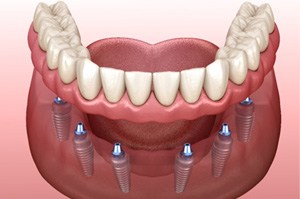 Implant dentures are more expensive than regular kinds. That said, their (relatively) higher price is rather well-justified. Implant dentures have unique benefits compared to other options.
First, note that implant dentures use dental implants – prosthetic teeth that fuse with your jaw. Consequently, these restorations are secure, permanent, and won't slip or fall. Better yet, their porcelain surfaces look very natural and lifelike.
Of course, implant dentures also make for great long-term investments. Their implants can last 15-30 years, requiring few repair or replacement fees. Therefore, their high upfront price is offset by the money you save down the line.
Does Dental Insurance Cover Dentures?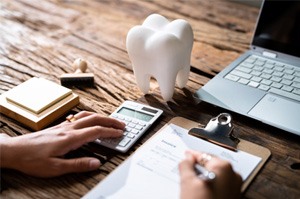 Typically, yes – dental insurance does cover dentures. The latter, after all, counts as a major procedure. Many plans thus consider dentures "medically necessary," meaning they'll match 50% of the treatment's cost.
Even so, keep in mind that exceptions exist. Some insurance policies limit their denture coverage. Given this fact, confirm your plan's benefits before treatment. Our office can even assist you in doing so.
Other Options for Making Dentures Affordable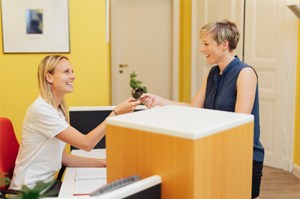 Even without insurance, other ways exist to make dentures affordable. Many dental practices offer helpful payment options. With the right dentist, then, prosthetic teeth don't have to exceed your budget.
Look at our own Preston Bend Dental, for example. We accept third-party financing from various services. Through them, you could pay for dentures with monthly low-interest installments. The result would be a treatment cost that you cover gradually.
To get other details on budget-friendly dentures, book a consultation with our office. We'll happily explain how we can restore your smile affordably.
Denture FAQs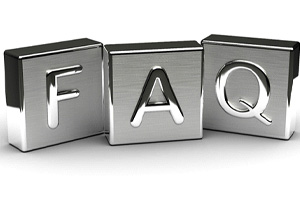 Dentures in Plano are a tried and proven solution to replace missing teeth. However, they are a big investment, and it's normal to have some concerns about the road ahead. Dr. Madhav will explain everything during your initial consultation. In the meantime, here are the answers to the most frequently asked questions.
Can I Sleep with My Dentures?
Initially, your denture dentist in Plano will instruct you to wear your new dentures for 24 hours, but then you'll need to establish the habit of removing them before going to bed. Dentures restrict blood circulation to your gums, which can lead to sores, inflammation, or infections if the soft tissues aren't given time to recuperate. Not to mention, your mouth is a hotspot for oral bacteria growth that can affect the lifespan of your dentures and your general health. Taking your dentures out at night gives your gums the break they need and allows you to keep your smile clean. Besides brushing your dentures, place them in an overnight soaking solution to kill any bacteria missed by your toothbrush. It will also keep them moist to prevent them from warping. Although no one wants to be caught without their teeth, taking your dentures out before bed will improve your oral and overall health while getting the most in your investment.
Do Upper Dentures Always Cover the Palate?
A traditional upper denture covers the roof of the mouth, which may change the way food tastes. Whether you're concerned about diminished taste sensations or discomfort, you have many types of dentures to choose from, including those that don't cover the palate. We will review all your options during your consultation to find the perfect denture for your needs and preferences.
Can I Still Eat Steak with Dentures?
It is entirely possible to eat steak with dentures, but it's best to limit how often you have it. Chewy meats put extra wear and tear on your dentures because they require a lot of chewing, which can make your gums or jaw sore. If you can't resist a juicy steak, cut it into small pieces to make it easier to chew. You might also find an adhesive helpful to benefit from added stability.
Can I Use My Dental Insurance for Dentures?
It's unlikely your dental insurance will cover the entire cost, but you can use your coverage to offset the amount you pay out-of-pocket. Your policy can cover various aspects of your treatment plan, such as your consultation or any imaging. After meeting your annual deductible, your benefits can cover any preliminary procedures, like tooth extractions, gum disease therapy, or bone grafting. Most dental insurance classifies dentures as a major service, which is typically covered 50%. A member of our team will work on your behalf with your insurance, so you have one less thing on your plate. They'll explain how your benefits are being used and your payment options for any remaining balance, like CareCredit. We will help you find the solutions you need to keep a complete smile within your budget.
Schedule an Appointment Today!
Finding a sturdy replacement after tooth loss is crucial for your continued health. Please contact Preston Bend Dental to discuss full and partial dentures today! We will be happy to help you enjoy all the benefits of a complete, healthy, beautiful smile once again.