Missing Multiple Teeth – Plano, TX
Dental Implants Secure a Natural Looking Smile
If you have multiple missing teeth in Plano, then you should not only think about replacing the portion that is visible when you smile. You must also consider what is below the gum line—that all-important tooth root. Dental implants replace both the crown and root of a missing tooth, making them look and feel more like natural teeth. Single or multiple tooth implants are available. Schedule a consultation with Dr. Madhav to learn more about your options.
Tooth Replacements That Do Not Require Dental Implants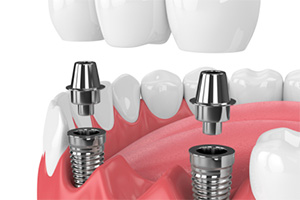 Although dental implants offer many benefits, there are other tooth replacement options that don't require dental implants.
Crown and Bridge. This prosthetic consists of false teeth that are suspended across the gap of your missing teeth and dental crowns. Constructed as one unit, the crowns are affixed to adjacent teeth and hold the bridge in place.
Partial Dentures. If missing teeth are not consecutive, then a partial denture will slip in like a puzzle piece between your remaining teeth. Clasps that attach to adjacent teeth secure the partial in place.
Full Dentures. For ages, dentists have used full dentures to replace an entire row of missing teeth, and they are still an often used and reliable choice. A full denture is comprised of false teeth mounted on a gum-colored base. Denture adhesive and natural suction hold a full denture in place.
Receiving Dental Implants in Plano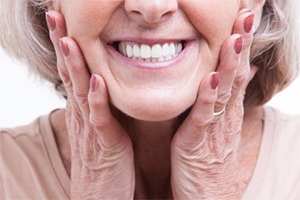 To restore your smile with dental implants in Plano, you'll need to plan on several months for treatment. The process starts with any preparatory work that must be completed first. For example, there may be damaged teeth to extract. Digital X-rays and scans are taken to help plan the placement of dental implants.
The next phase is implant placement surgery. For multiple dental implants, incisions are made in gum tissue so that the dentist can position the correct number of implants in your jaw. Over the next several months, the gum tissue heals and the implants and surrounding bone tissue fuse together to create a secure foundation for your new tooth.
Finally, an implant-supported crown, bridge, partial or full denture will be attached to your implants to complete your smile.
The Advantages of Dental Implants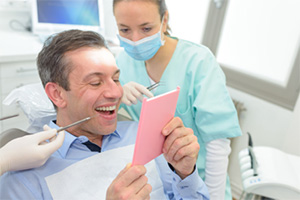 Dental implants offer several advantages:
Implants stand alone in your jaw, so they do not affect other teeth
Dental implants substitute for the root and crown
Implants are firm held in place and are and immovable
They help preserve the shape of your jaw and periodontal tissue volume
Dental implants do not require special cleaning
With proper brushing and flossing and six-month dental checkups, implants can last for 30 years or more, while other options need maintenance and eventual replacement