Single Missing Tooth - Plano, TX
Start Your Journey to a Complete Smile
Are you among the 120 million adult Americans who have lost at least one tooth? Do not let it hurt your quality of life or your confidence any longer. Preston Bend Dental can fill the empty space with the latest solutions to replace a single missing tooth in Plano. Dr. Madhav will rebuild your smile and improve your oral functions with a treatment that is right for you.
Single Tooth Replacement Options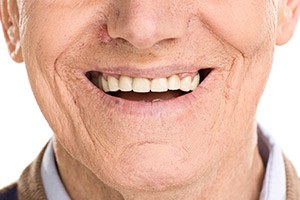 Every tooth is important for your oral health. Even one missing tooth causes serious complications to develop. Although they may not be apparent at first, over time you will notice significant changes in your life.
When you lose a tooth, you also lose the root. This causes your jawbone to deteriorate because it is no longer stimulated. Your adjacent teeth shift toward the open space because they no longer have the support they need to stay in place. They will move out of alignment, making them more difficult to keep clean. This increases your risk of tooth decay and gum disease. Over time, they may become loose and fall out.
The lack of support also causes your facial structures to change. This can lead to premature wrinkles and sagging of the skin.
Dr. Madhav can help to stop the complications of tooth loss with the latest advancements in dentistry.
Fixed Bridge: A prosthetic tooth is crafted to match the appearance of your teeth to look natural. It is held in place by reshaping the adjacent teeth to place dental crowns over them. With the right aftercare, your bridge and crowns can last for an average of 5 years before needing to be replaced.
Dental Implant: A titanium implant post is surgically placed into your jawbone to serve as a new root. An abutment is attached to the post to connect a custom-made crown. Your dental implant in Plano has the potential to last for several decades if you care for it properly.
Benefits of Dental Implants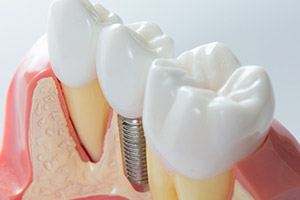 Since a dental implant replaces both the root and the crown, it offers exceptional benefits that are not possible with a fixed bridge, including:
Over a 95% success rate.
All-ceramic crown creates a natural-looking appearance.
Functions naturally by restoring as much as 70% of your biting force.
Stimulates your jaw to encourage new bone growth.
Improves your oral health by preventing dental drift.
Easy maintenance and care.
Long-term solution.
Cost-effective because they never need to be replaced.
No slipping or irritation.
Does not alter healthy teeth.
Gives your facial structures support.
Complete Your Smile Today!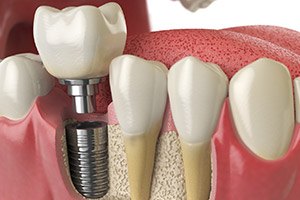 Living with even one missing tooth can make it difficult to enjoy your favorite foods and speaking clearly can be challenging. Not to mention, your self-esteem was lost along with the tooth. You do not need to hide your smile. You can enjoy your favorite foods again and smile confidently.
If you are ready to replace your missing teeth, contact Preston Bend Dental today to schedule a consultation for a complete smile.