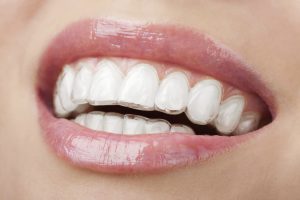 Your teeth are important. Not only do they keep your smile big and beautiful, but they are essential to your overall health. Cosmetic dentistry specialists at Preston Bend Dental offer a slew of services aimed at getting you the smile you have always wanted. Our cosmetic dentistry service, including Invisalign, is very popular and Dr. Anita Naik Madhav in Plano, TX, specializes in offering this treatment.
What is Invisalign?
We weren't all born with perfect teeth. There are those who have beautiful teeth without ever using any dental correction techniques. For others, there's always been braces. Luckily, there's a sleek alternative that has turned the orthodontic world upside down: Invisalign. It's fast becoming the number one choice instead of braces. And for good reason! It's a cosmetic braces system that uses clear aligners instead of metal brackets and wires to move teeth into their ideal position. Each aligner is delicately designed for a specific phase of your treatment. As your smile straightens, you'll wear each aligner in your kit for roughly two weeks before moving on to the next one.
What are the benefits?
Clear aligners
Removable aligners to brush and floss
Freedom to eat whatever you wish
No metal taste
No prickly wires or brackets
So, as you can see, Invisalign is the way to go. You can straighten you teeth discreetly while inching closer to getting the perfect smile.
Cosmetic Dentistry Services
There's always something to improve when it comes to your smile. Perhaps you'd like your teeth a bit whiter or want a straighter smile. Whatever the case, Dr. Madhav has the tools and expert knowledge to get your smile looking like a million bucks.
Our cosmetic dentistry services include:
Porcelain Veneers
Teeth whitening
Cosmetic bonding
Invisalign
Before starting any procedure, Dr. Madhav will perform a full oral health assessment, then discuss the results with you so an optimal result can be achieved.
Schedule an Appointment Today
Speak with our staff to set up an appointment at our Plano, TX office. We are proud to serve the surrounding communities of McKinney, Frisco, Allen, Richardson, Carrollton, The Colony and beyond.