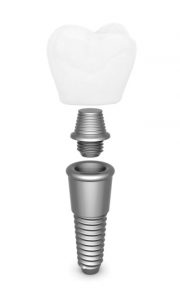 If you are missing teeth—even if you're only missing one tooth—then you know the consequences are no picnic. Literally and figuratively. Literally, because with missing teeth you may not be able to eat the foods you enjoy most, such as those delicious summer picnic foods—corn on the cob, a thick steak or fresh and crunchy summer fruits and vegetables. Figuratively, because having just one tooth missing can make you reluctant to smile. And who wants that when there are so many fun summer activities to make you smile? Come see Dr. Anita Naik Madhav and the team at Preston Bend Dental in Plano, TX, for dental implants. Join the picnic!
While there are other options when you're considering which tooth replacement to choose, dental implants are unquestionably the most lifelike. Why? Because dental implants most closely mimic the structure of one of your natural teeth. A dental implant is comprised of two parts: one below the gum line and the other above. The portion below the gum line is a small titanium post that Dr. Madhav surgically implants in your jaw. As you heal from surgery, the post and bone will fuse together in a process called osseointegration. Once fused, the post becomes firmly set in the bone and is as strong a foundation as a natural root. Also, this post promotes healthy bone growth in your jaw, so you are less likely to have facial sagging, a common occurrence for people with missing teeth.
After the appropriate amount of time has passed for healing, you'll return to Preston Bend Dental where Dr. Madhav, who is also the cosmetic dentist, Plano, TX, relies on, will attach your new prosthetic, usually a porcelain crown. Some dentists refer patients to an oral surgeon for the first portion of a dental implant procedure. Dr. Madhav, however, is eminently qualified to perform both the surgical and the restorative phases of dental implants.
Call Our Office Today
To learn more about the teeth implants Plano, TX, knows will comfortably and beautifully complete smiles with missing teeth, schedule an appointment with Preston Bend Dental. We offer complete implant care to patients from Plano, Frisco, McKinney, and all surrounding areas.