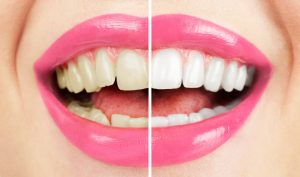 Professional teeth whitening in Plano, TX happens 2 ways: at-home or in-office. Both cosmetic dental solutions offered by Preston Bend Dental brighten stained tooth enamel by up to 8 shades.
What are the differences between at-home and in-office Plano, Tx teeth whitening?
Many individuals who have healthy teeth and gums are disappointed with their smiles. Staining from age, food and beverages, prescription medicine, heredity, wear and tobacco use yellow and darken teeth to the point where people cover their smiles.
Plano, TX cosmetic dentist Dr. Anita Naik Madhav understands that a bright, youthful-looking smile carries a professional and social advantage and lets people feel confident. So, she and her professional team deliver several cosmetic dental services.
At-home and in-office teeth whitening is just one of these services. It is also one of the most effective, quick and economical ways to get people smiling again. Both whitening methods work well, are professionally supervised and safe and last indefinitely with good oral hygiene, professional cleanings and touch-ups at home.
At-home whitening is more gradual
Dr. Madhav recommends at-home whitening kits for individuals who want to do the procedure in the comfort and privacy of their own homes. She provides patients with custom-fitted, clear plastic whitening trays and a supply of professional strength whitening gel. Over the course of 2 weeks, patients apply the gel to the trays and wear them for the prescribed time daily. The snug fit of the trays protects gums from the hydrogen peroxide bleaching agent and makes the appliances comfortable, too.
At-home whitening works much better than over the counter toothpastes or rinses, producing color change of up to 8 shades. Little or no tooth or gum sensitivity results from this procedure.
In-office whitening is fast
When people have a special occasion coming up or just don't have the time to whiten their teeth at home, Dr. Madhav offers teeth whitening at  Preston Bend Dental that takes about an hour. The team at Preston Bend Dental applies a highly concentrated hydrogen peroxide to all tooth surfaces, taking care to protect teeth and gums. The gel powers out stubborn stains quickly and comfortably. Whitening lasts indefinitely just like the at-home version.  Color improvement is dramatic.
Who can get teeth whitening?
Many individuals are great candidates. It's important to have a healthy smile with no decay or gum disease. Multiple restorations such as fillings and crowns disqualify individuals for this cosmetic dental service, but Dr. Madhav can improve these smiles with porcelain veneers, bonding or other treatments. Additionally, pregnant or lactating women should postpone teeth whitening, and individuals with very sensitive teeth should look into other ways to improve smile aesthetics.
Your 75024 dentist is waiting for your call
Why not contact Anita Naik Madhav, skilled cosmetic dentist in the Plano, TX? Together you can discuss your oral health and cosmetic goals, formulating treatment plan that optimizes your best smile. Contact the team for an appointment.