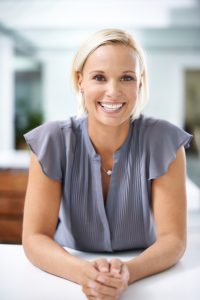 Porcelain veneers can make any smile look beautiful. They can mask stains, cracks, fractures and more in your smile. Teeth that are dealing with cracks and other issues can benefit greatly from a porcelain veneer. It's designed to cover the front surface of teeth with beautiful results. Everyone deserves to have a smile they can be proud of enough to show off to the world. A beautiful smile can make a great first impression wherever you go. Whether you're applying for a new job or are going on a hot date with that special someone, a gorgeous smile can make a huge difference. A beautiful smile is attractive, thus attracting everyone else's eyes. You want people to look at your smile for all of the right reasons and porcelain veneers can help you achieve the look you're looking for. The veneers' thin, porcelain shells can change the shape, size, color and length of teeth.
Our office in Plano, TX specializes in providing porcelain veneers for our patients. They're fast becoming one of our most popular service and it's easy to see why. There are plenty of benefits to receiving porcelain veneers. In order to see what they are, it's best you visit our office and schedule a consultation with Dr. Madhav. She is the cosmetic dentist Plano, TX residents can trust to get their smiles looking beautiful again.

How Are Porcelain Veneers Placed?
It takes three visits to properly place a porcelain veneer. The first involves a sit-down with Dr. Madhav to go over procedural details and other pertinent information. It doesn't matter whether you have multiple teeth that need help or just one, porcelain veneers can be applied to any of them.
Discuss treatment planning with Dr. Madhav. This visit will have her inspecting your mouth and deciding on whether porcelain veneer treatment is right of you.
Preparation of the tooth/teeth. Approximately a ½ millimeter of enamel is removed from your tooth surface. From there, an impression will be taken so the veneer can precisely fit over the problem tooth. Roughly 1-2 weeks later, the veneer(s) will be sent from a lab.
Your new veneer will be polished, cleaned and etched for a good bonding process. A special light beam is directed to the dental veneer where chemicals in the cement react, thus hardening the supporting cement quickly.
There are many advantages to receiving porcelain veneers. Below are the following pros:
Porcelain is resistant to staining
A natural tooth appearance is attained
Gum tissue stays healthy
You can choose from many different porcelain colors
Invasive treatment that doesn't require large-scale shaping
If you're on-the-fence about porcelain veneers, you can trust in our professionalism and expertise. Plus, did you read all of the benefits? You can get your smile back to looking beautiful once again with porcelain veneers.
Schedule a Consultation with Dr. Madhav
If you're ready to do something about your smile, we'd love to see you at our Plano, TX office for treatment. You can see firsthand just how great porcelain veneers are for certain cosmetic issues. Beautify your smile with porcelain veneers, Plano, TX!