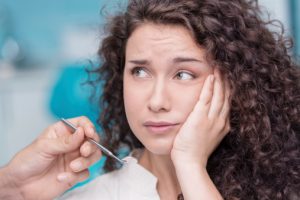 Dental emergencies aren't ever convenient — no, aching molars and fractured canines don't wait for your next scheduled appointment. When it comes to choosing a dentist, you need one that suits all of your needs — even the unexpected ones. Throughout your lifetime, you'll probably need a general, cosmetic, children's and, yes, an emergency dentist you can trust. The good news is we've got your all-purpose dentist right here in Plano, TX: Dr. Anita Madhav at Preston Bend Dental.

Emergency Dentist Plano, TX Can Rely On
When dental emergencies occur — whether it's on a Sunday afternoon or late Thursday night — too many adults are left waiting in pain while their regular dentist makes time to see them. But we understand how miserable tooth pain is — and that's why we're proud to offer adults and children emergency dental care. Some common dental emergencies include:
Broken, cracked or fractured tooth
Serious cuts on the lips, tongue or cheeks
An object stuck between teeth
Severe toothache
Suspected broken jaw
It's important that you call Preston Bend Dental as soon as a dental emergency occurs. If we don't answer on your first try, leave a message and we'll call you back as soon as possible. Whatever the issue, we promise we won't leave you waiting in pain.
All-Around Dental Care at Preston Bend Dental
We're proud to offer our patients with emergency dental services, but that's certainly not all you can expect from Preston Bend Dental. We also provide excellence in the following areas of dentistry.
General Dentistry
Many of our patients need little more than routine dental care. That includes a regular cleaning and checkup — and we believe we offer the best in general and family dentistry. Services include:
Preventing cleanings and exams
Bruxism
Dental sealants
Patient education
Oral cancer screenings
Nightguards and athletic mouthguards
Cosmetic Dentistry
We know that having a smile you feel great about takes more than making sure it's healthy. You also want a set of teeth you can't wait to show off. That's why we offer excellence in cosmetic dentistry, too. Services include:
Porcelain veneers
Teeth whitening
Cosmetic bonding
Invisalign
Schedule Your Appointment Today
If you need a dentist you can trust for all your mouth's needs, call Preston Hollow Dental to schedule your appointment today. We'll work hard to make sure your teeth are healthy — and to make sure you're happy.