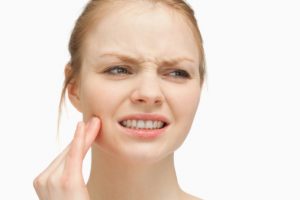 We know this is "the most wonderful time of year," but let's be honest—it can also be the most stressful time of year, too. Just thinking about everything you need to do can be stressful! There are all the gifts you need to buy, the parties to plan and attend, grocery shopping and meal planning for your holiday dinner—and all of that is on top of your normal routine that may include work, school, kids, carpool, and so on and so forth. All of that stress can manifest itself in physical reactions within your body. One of the more common reactions is when we clench or grind our teeth. Anyone can experience occasional grinding and clenching, also called bruxism. Problems arise, however, when bruxism becomes a habit. In that case, you may need treatment in order to protect your teeth and eliminate the jaw discomfort that may develop as a result. Dr. Madhav is the dentist Plano, TX, residents turn to for relief.

Ideally, teeth should only meet when you are chewing food. However, in the case of teeth grinding and clenching, there is unnatural pressure on teeth that can lead to abnormal wear and even cracking. Moreover, bruxism can cause serious jaw pain or a condition called TMJ or TMD, temporomandibular joint disorder.
Other conditions that can results from teeth grinding and clenching include:
Worn and uneven teeth
Cracked teeth
Broken fillings
Receding gums
Loose teeth
Headaches
A Mouthguard in Plano, TX
To prevent bruxism and to treat the consequences, Dr. Madhav can prescribe a custom mouthguard to be worn during sleep, when most teeth grinding and clenching happens. This comfortable oral appliance fits comfortably in your mouth and essentially acts like a shock absorber that takes in the pressure bruxism would otherwise place on your teeth. Some of our patients experience almost immediate relief from pain and discomfort once they begin wearing the mouthguard Dr. Madhav provides. Other things you can do to help with bruxism include taking steps to reduce stress, such as exercise, meditation, psychotherapy, yoga or that long overdue vacation you've been meaning to take! If your bruxism is due to a misaligned bite rather than stress, then you may want to consider orthodontic treatment.
Call Our Office Today
If the stress of the holiday is starting wear on your teeth and not just your nerves, then call Preston Bend Dental. For bruxism, Plano, TX, trusts Dr. Madhav and her dedicated team.