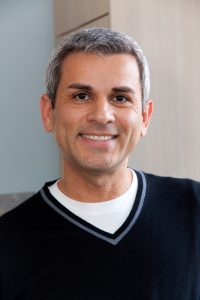 Diabetes sufferers should know about the effect gum health has on their overall wellbeing. People suffering from type II diabetes are at a much greater risk for developing periodontal (gum) disease. Once the condition has developed, blood glucose levels (or the amount of sugar in the blood) are increasingly difficult to control. Why? Because people with diabetes are more susceptible to developing infections — and their weakened immune systems mean their bodies have a harder time healing from something like gum disease.
Type II diabetes is just one of the many conditions caused or aggravated by gum disease. While gum disease negatively affects the body's ability to control blood glucose levels, there is good news. The treatment of one symptom usually improves the other. So diabetics who treat their gum disease often experience fewer symptoms of gum disease, and vice versa. Dr. Madhav provides therapy for periodontal disease at Preston Bend Dental.
Linking Blood Glucose Levels With Your Gum Health
It may seem like a leap to suggest that uncontrolled blood glucose can affect the health of your gums, but it makes sense when you consider this. Too much glucose (or sugar) in the blood transfers into your saliva — constantly exposing your teeth and gums to harmful bacteria. And when this bacteria combines with food particles, it multiplies and leaves you vulnerable to cavities and, yes, gum disease.
How can diabetes sufferers prevent problems with their oral health? First, by seeking treatment to control their blood glucose levels. Taking excellent care of your teeth and gums will also help to ensure your smile stays healthy. You already know the basics of good dental hygiene — and they are more important than ever for people who are at a higher risk for developing gum disease and cavities.
To keep your teeth and gums healthy, make sure you are:
Brushing your teeth for two minutes after each meal. Concentrate on each quadrant of the mouth for 30 seconds. Do not cut the two minutes short; investing in an electric toothbrush with an automatic timer will help to ensure you are brushing for the full two minutes, every single time.
Flossing between each tooth, at least once a day. Yes, we are aware of the recent firestorm related to the supposed ineffectiveness of flossing, but the simple truth is that flossing just makes sense — especially when it comes to preventing gum disease for people who are at a higher risk of developing the condition.
Maintaining a balanced, nutritious, low-sugar diet. This step is especially important for people who have diabetes.
Quitting tobacco use. Smoking, e-cigarettes, smokeless tobacco, and other forms of the substance are a leading cause of oral problems like gum disease and associated tooth loss.
Let's Talk About Your Gum Health Today
Are you suffering from gum disease in Plano? Make yourself aware of the effects gum disease can have on your overall health and seek treatment immediately. Dr. Anita Madhav provides periodontal therapy at Preston Bend Dental. Contact us to schedule an appointment today!