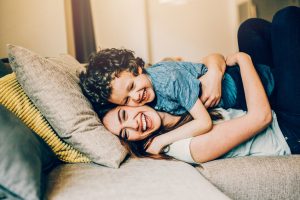 The wild modern dance routine that is feeding your child in their highchair has commenced. Your only choice is whether the spoon is going to be a train or a plane. As it swoops around their head and they laugh, you notice something. One of their teeth is starting to show. This gets you thinking, "When should I take them to the dentist?" Should you wait for the tooth to come in? How about until they all do? Dr. Anita Naik Madhav, your dentist in Plano, tells you everything you want to know about your child's first dental visit.
When Should They First Visit the Dentist?
The American Academy of Pediatric Dentistry has a simple way to answer this question: "First visit by first birthday." The longer answer is that you should bring your child in 6 months after their first tooth has erupted or before their first birthday. These early visits are essential for setting your child on the right path for healthy teeth. This will give Dr. Madhav the chance to examine your child and see how their teeth are developing. The earlier she is able to notice a potential problem, the easier it will be for her to treat. It is also an ideal opportunity for you and your child to ask any questions you might have about their oral health. This will help get them started thinking about their teeth. You can discuss the value of brushing and flossing, how their diet affects their teeth, and what to expect as their teeth develop. By taking care of their teeth early, this will help your child have a positive connection with going to the dentist and taking care of their teeth, ensuring they will want to in the future.
What To Expect
When you bring your child in for the first time, the visit will start with the team at Preston Bend Dental greeting them and trying to help them feel more comfortable. The session will start with you talking about your child and discussing any medical history or observations that might be relevant. After this, the actual examination will occur with your child laying down in your lap. This will help ease their anxiety in an unfamiliar situation. Dr. Madhav will clean their teeth and gums and perform an examination. At this point she'll make suggestions for what you and your child can do to keep their teeth healthy as time goes on. Just like with yourself, be sure to bring your child in regularly for check-ups after the first visit. This will give Dr. Madhav a chance to monitor their progress and make sure everything is going smoothly. This will also allow you to ask any questions you might have as your child's teeth grow and change.
Any Questions?
If you're still asking yourself, "Do I need to take my child to the dentist near me in Plano, yet?" please give us a call. We'll be more than happy to help you keep your child smiling. Your child's health is important to you, so help keep their smile bright and come see us at Preston Bend Dental.