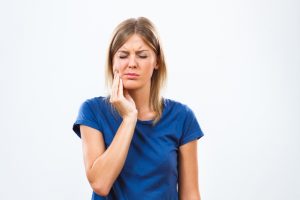 Enjoying a meal at your favorite restaurant can quickly take a turn when you feel that telltale crack of your tooth. The next thing you know, you're having sensitivity to cold food and beverages and your dentist is saying you need a crown. Dental crowns in Plano can restore your tooth's natural shape and size and repair your fracture. Preston Bend Dental makes it easier and more comfortable to get a crown than ever before!
What is a Dental Crown?
When your tooth sustains decay, an injury, or a fracture or damage that is more than what a dental filling can repair, Dr. Madhav will recommend a dental crown for you. A crown is designed to replace your entire tooth, while protecting the integrity of your natural root structure.
It's custom shaded to match your existing teeth, so it's aesthetically pleasing and not noticeable. It's also designed to provide the same function you enjoyed with your natural tooth, which means you'll eat, chew, brush and floss with ease.
What is the Process to get a Crown?
Completing a crown used to be a lengthy process, requiring at least two long appointments and 2-4 weeks to complete. Preston Bend Dental is proud to offer CEREC technology to our patients, which allows us to design, fabricate, and complete your crown during one appointment at our office!
CEREC utilizes 3D technology to scan an image of your tooth, which Dr. Madhav uses to design your restoration. Then our milling machine fabricates your crown out of high quality porcelain while you wait. When it's completed, Dr. Madhav will ensure proper fit of your crown, and you'll leave with a beautiful, complete and fully functional new tooth.
Contact Preston Bend Dental
If you find yourself with a broken or sensitive tooth, we encourage you to be proactive and contact our office right away. Unfortunately, your tooth won't get better without treatment, and leaving a broken tooth untreated can lead to bigger, more painful and costly repairs.
Dr. Madhav is your trusted dentist in Plano, and she's been serving the community for over 15 years. You can rest assured that you're in good hands when you choose Preston Bend Dental for your care. Give us a call to schedule your next appointment