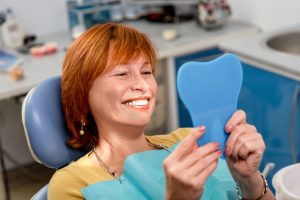 Everyone wants to have a great looking smile. In our digital world of images, touching up your smile with Photoshop is a handy tool, but sooner or later you will probably need to leave the house. If you are experiencing tooth loss due to injury or decay, there is a great solution that doesn't involve pixels and photo retouching. Try dental implants in Plano, and get a brand new smile you will be proud to show off in person. Dr. Anita Naik Madhav and the staff at Preston Bend Dental recommend dental implants as an excellent way to restore your brightest smile and reclaim good oral health once again.
What Is A Dental Implant?
Dental implants are designed the same way a natural tooth and root would work. The procedure mirrors the tooth and root system by implanting a titanium post into the bone, which creates a stable foundation for a new tooth to be put in. The most important feature of dental implants is that it will stimulate bone growth as the titanium fuses to the tissues and creates an extremely durable foundation just as a root does. Without teeth and roots, the bone and gum tissues will begin to atrophy and can cause further problems for your oral health.
Are Dental Implants Right For Me?
Dental implants are one of the most versatile restorative choices because they can be paired with many different prosthetic options, such as single crowns or bridges, partial dentures, and full dentures. If you are missing one or more teeth, this option offers a complete restoration of your smile that fits your individual needs.
How Does It Work?
A dental implant procedure is completed in two phases. The initial appointment is often performed at a specialist's office where your post(s) will be surgically implanted. However, at Preston Bend Dental, we are proud to offer the entire procedure at our office. Once your jaw has time to heal, a second appointment is necessary to attach your new prosthetic to your implant. The result is a natural-looking, strong restoration that will last a lifetime with proper care.
Benefits of Dental Implants
The esthetic reward is the most obvious benefit to choosing dental implants. Restoring your healthy smile will give you confidence and peace of mind that you can face others with the joy and optimism you deserve. Here are a few more great benefits to getting dental implants:
Dental implants have one of the most natural looking effects that keep your smile looking wholesome.
Stopping bone loss is an important feature that dental implants provide, along with helping maintain the shape of your face and smile.
A long as dental implants are properly placed and cared for, they will last a lifetime.
You will no longer have to worry about dental caries, but you still must care for your oral health the way you normally would.
Dental implants restore your ability to speak and chew a variety of foods with confidence.
Implants are permanent and will never slip out of place or shift around.
Dental implants are considered one of the most reliable and predictable restoration methods for missing teeth.
Caring For Your Dental Implants
Maintaining your dental implants follows the same process as your normal hygiene routine. Be sure to brush around the gum line of your implants as plaque can build up there. If you are inclined, you may find that using a power or sonic toothbrush with soft bristles is helpful as well. Continue to floss as usual and always see your dentist for regular cleanings and check-ups.
Questions?
Don't let tooth loss keep you from enjoying your normal daily life. Your dentist in Plano can help you decide if dental implants are the right option for you. Dr. Madhav will assess your needs and medical history to determine if dental implants are the best solution for you. Call our office today to schedule a consultation.