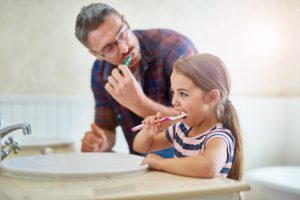 February is National Children's Dental Health Month! And in honor of this month, your team at Preston Bend Dental wants you to know how important your child's oral health is. Your Plano family dentist discusses when your child should have their first dental visit and other helpful tips you can do at home to promote their dental health.
The First Visit
Your child's teeth will typically begin to arrive around 6months old, and you should begin brushing them right away. Their first visit to the dentist should be shortly after that or around the age of one year old so we can monitor their teeth and oral development.
These first visits are mostly spent acclimating your child to our office and the instruments we use so they'll feel comfortable about visiting the dentist. Our entire team is dedicated to making these early dental experiences pleasant and upbeat for your child.
Brush Consistently and Lead by Example
You'll need to help your child with consistent brushing and flossing until around the age of six or seven. Use the 2-2 method, which reminds them to brush twice a day for at least two minutes. Flossing should be done at least once per day, and using flossers can help children get to the hard to reach areas of their mouth.
You can also help your child learn to brush and floss by setting a good example for them. When they watch you brushing and flossing, they'll want to do it also.
Eat a Balanced and Healthy Diet
This year's theme for National Children's Dental Health Month is "Choose Tap Water for a Sparkling Smile." This reminds us to protect our teeth from sugary drinks that can cause tooth decay and cavities. Water is the best choice for your oral health and your overall health and well being.
Did you know that eating fruits and vegetables is also important for your teeth? This is because they actually neutralize the harmful acids in your mouth that cause tooth decay. They also increase saliva flow, which helps to wash away food particles and debris. When it's time for a snack, remind your child to reach for fruits and veggies.
Contact Preston Bend Dental
Regular visits to your dentist are also important for maintaining your dental health, and the same is true for your child. They should visit our office every six-months just like you do. Give us a call today to schedule your child's next appointment.