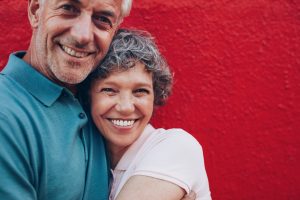 As you've gotten older, you've noticed changes – from silver strands in your hair to cracking joints, it's easy to tell you're not a kid anymore. And, just like the rest of your body, your teeth and gums change as you age, too. What are the most important facts about your teeth as you age? Get the info you need from your trusted dentist in Plano, Preston Bend Dental. In this post, Dr. Anita Naik Madhav shares her expert knowledge and teaches you how to keep your smile bright your whole life long.
Top 7 Facts You Need To Know About Your Teeth As You Age
You may be thinking, "Since I'm older, will I need to see a dentist near me to get dentures?" Contrary to popular myth, most seniors retain their original dentitions. If you keep in mind the 7 facts below from Dr. Madhav, you can keep your natural teeth through your golden years:
Healthy Smile, Healthy Heart – The link between good oral health and decreased heart disease is well-known. Chronic inflammation from gum disease is connected to the development of heart disease, blockages of blood vessels, high blood pressure, and stroke – the risks of which increase with age. Taking care of your smile as you age is good for your heart, and your entire body.
Healthy Body, Healthy Smile – Just like your teeth affect your overall health, your physical well-being affects your teeth. Getting older means an increased likelihood of systemic diseases like diabetes and even oral cancer, so regular preventive dental care is essential as you age. And, don't forget that medications can affect your teeth, too, so talk with Dr. Madhav about oral health strategies if you have a chronic, age-related health condition.
Avoid Dry Mouth – Growing older can mean a decrease in saliva production for most seniors. Since this lubricant's job is to remineralize teeth and to protect them from tooth decay, dry mouth can contribute to cavities. As you get older, you'll need to drink more water and consider using a mouthrinse designed to keep things hydrated.
Wear & Tear – Through regular wear and tear (known as attrition), teeth can become worn, shorter, and can even be more susceptible to breaking, and developing chips, cracks, and infections. To keep enamel strong as you age, be sure to brush with a fluoridated toothpaste at least twice a day.
Go Electric – Since holding a toothbrush can be difficult with arthritis and other joint-related health issues, try using an electric toothbrush. Not only are these perfectly timed for the correct duration of oral hygiene, they take the work out of brushing for you and are easy on your hands.
Diet & Exercise – Proper nutrition is important no matter what age you are. It's important to load up on calcium if you're a senior, since this is crucial for keeping your bones, including your teeth, strong. And, getting enough exercise can help keep blood flowing to your gums and make your smile healthier.
Medicare & Dental Coverage – Many seniors expect traditional Medicare to cover dental expenses – beware: this is not the case. While some Medicare advantage plans offer dental benefits, traditional Medicare from Uncle Sam doesn't cover your teeth. But, you can find affordable supplemental plans available for as low as $30 a month.
Now that you know the seven most important things to remember as your teeth age, schedule your appointment today with Preston Bend Dental to keep your smile healthy and beautiful your whole life long.