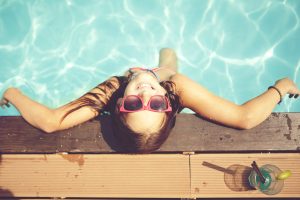 I moved down to Texas a couple years ago from up North and am loving every minute of the weather in DFW – especially the sunny Summer days. I've been amazed at how many pool parties, barbeques, and outdoor events that the climate affords everyone – and I've been working hard to get fit, since I want to look great at the Summer events this year. But, I recently found out that most people think our smiles are the most important physical feature, so I want to get teeth whitening in Plano done to make sure my pearly whites match my new physique. What dentist near me provides the highest quality lightening services in the area? Preston Bend Dental does!
Why Is Having A White, Bright Smile Important?
In addition to boosting self-confidence and making you feel great about yourself, research has shown that men and women both think teeth are the most crucial feature in members of the opposite sex – and, having great teeth can actually boost our chances of success at work. So, if you're trying to find Mr. or Miss Right at a pool party this Summer, or to land your dream job now, our treatments can help you hold your head up high and reflect your inner beauty, too.
What Teeth Whitening Services Does Preston Bend Dental Provide?
As one of the most respected dental professionals in the area, Dr. Anita Madhav both in-office and at-home teeth whitening.
In-Office – Dr. Madhav will protect your gums and lips, then she'll apply a potent, yet safe whitening agent to your teeth only. In about an hour, you can lighten your teeth by several shades.
At-Home – If you'd prefer to whiten your teeth from the comfort of your home, our at-home kits are the best around. The 100% customized trays will help keep the professional strength lightening agent powerful by preventing saliva from mixing with the gel.
Both of these methods are far superior to any over-the-counter products you might find. Rather than wasting time and money on trays that aren't made especially for you or on whitening strips that can be dangerous, you can rest assured that our methods are tried and true, as well as secure, since you'll be under the care of a qualified professional.
Can I Afford To Teeth Whitening?
We strive to make all of our comprehensive services affordable for every patient and to help our patients achieve the results they want without breaking the bank. We offer interest-free payment plans, as well as third-party financing for those who are interested in low-monthly payments. If you have questions about how to cover the costs, feel free to reach out – you'll be surprised how reasonable our rates are.
So – what are you waiting for? Summer is right around the corner and it's time for you to get the white, bright smile you deserve. Schedule your appointment with Preston Bend Dental today!