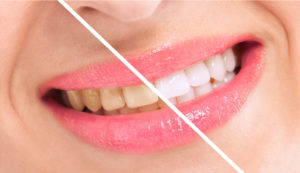 Have you ever watched celebrities on television walk down the red carpet at an awards ceremony and think, "I wish my teeth were as white as theirs."? They can be! You do not have to be an A-lister to have a radiant white smile. If your teeth have grown darker or discolored over the years, professional teeth whitening can help restore them to their dazzling best. From in-office whitening to professional take-home kits, here is everything you need to know about how professional teeth whitening in Plano can transform your smile.
How One Trip to the Dentist Can Brighten Your Smile
You may not have an awards ceremony in Hollywood on your calendar, but if a big event like a wedding is fast approaching professional in-office teeth whitening can instantly and dramatically brighten your smile.
First, your dentist will cover your lips and gums to protect the soft tissue from being damaged. Next, he or she will apply a bleaching solution containing a high concentration of hydrogen peroxide or carbamide peroxide to your teeth. The whitening gel will only need to sit on your teeth for about 45 minutes – in less than an hour, you can walk out of the dentist's office with a smile up to 10 shades lighter!
Brighten Your Smile on Your Own Schedule
For patients who prefer to whiten their teeth gradually or have sensitive teeth or gums, take-home teeth whitening treatment can produce the same dramatic results as in-office whitening treatment.
Take-home whitening in Plano brightens smiles by utilizing custom-made trays and a special whitening gel. Just apply the special whitening gel to the trays and wear them at home as directed by your dentist – typically for about 30 minutes a day for two weeks. Different strengths of whitening gel are generally available, so you can fully customize your take-home teeth whitening plan.
Why You Should Leave Whitening to the Professionals
These days, the pharmacy or supermarket shelves are stocked full of over-the-counter teeth whitening options – often for prices lower than the cost of professional treatment from your dentist. Although these whitening toothpastes, strips or even gum may say they are "professional strength," the results say otherwise.
Over-the-counter whitening products can temporarily remove some discoloration from the outside of the teeth. However, they simply do not offer the deep whitening power that professional whitening can deliver. Resist the temptation to save a few dollars and invest in professional dental whitening to attain a brighter, longer-lasting smile.
Don't let a discolored smile keep you from living life to the fullest. With professional teeth whitening in Plano, you can feel confident enough to flash your smile in any setting – even on the red carpet!
About the Practice
Residents of Plano know they can rely on Preston Bend Dental for exceptional family, cosmetic and restorative dentistry treatment. Dr. Anita Madhav and her team strive to meet the unique dental needs of every patient that walks through their doors. Patients old and new can learn more about Preston Bend Dental by visiting their website online or by calling the office at 972-618-1111.