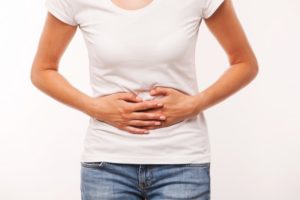 Gum disease and tooth decay are the biggest threats to long-term oral health, but at-home brushing and routine dental visits may not be enough to prevent dental problems if you have an underlying condition. You may have heard about the growing amount of research linking gum disease and cardiovascular conditions, but did you know that gastrointestinal disease could create a negative impact?
Seventy million people suffer from digestive issues according to the American Nutrition Association. If you have a gastrointestinal disorder in Plano, take a moment to learn how your condition can impact your teeth and gums.
Gastroesophageal Reflux Disease (Heartburn)
Are you plagued with burning sensations in your chest or a bad taste in your mouth seemingly out of nowhere? That is what most individuals would call heartburn and it affects millions of people every day. Heartburn occurs when acids from the stomach enter the oral cavity, typically because the person ate food that their body is sensitive too. For example, foods that are particularly acidic such as caffeine, alcohol, spicy peppers, or citrus fruits can all lead to heartburn.
As this heartburn occurs, stomach acid goes up the esophagus and into the mouth, brushing up against the back surfaces of teeth. This will only erode enamel over time, resulting in increased sensitivity and a higher risk of teeth fracturing. If you suffer from heartburn, tell a dentist. They can recommend a prescription-strength oral rinse and provide additional fluoride treatments to protect enamel. You can also reduce your intake of certain acidic foods, take antacids and any other medications designed to curb heartburn.
Peptic Ulcers
A peptic ulcer is a sore that develops inside the lining of the stomach, lower esophagus or small intestine. In this case, peptic ulcers don't necessarily affect dental health directly, but the medication used to curb it can. Medications for peptic ulcers can increase dry mouth and black tongue, a temporary condition where the tongue takes on a dark and furry appearance.
While this condition is mostly harmless, dry mouth can increase your risk of tooth decay if you don't brush and floss often enough. You'll also want to keep the dentist informed on all medications you're taking so they can be made aware of the potential side effects.
Inflammatory Bowel Disease
Also known as IBD, this condition also includes Crohn's disease and ulcerative colitis. All of these conditions cause regular inflammation within the gastrointestinal tract. Since IBD can manifest inside the mouth, the symptoms often appear there first. These include mouth sores, oral infections and bleeding or swelling gums. Medications taken to treat IBD can also cause dental issues, including dry mouth, gingivitis and tongue inflammation.
If you have IBD, the dentist can modify your treatment plan in order to meet your needs. This may include opting for less invasive measures if you need oral surgery, paying closer attention to your glucose levels and blood pressure and offering treatments that work to reduce your risk of dental disease.
The more informed the dentist is of your existing conditions, the better they can provide care. Schedule an appointment with a dentist in Plano today to stay informed and protect your oral health!
About the Author
Dr. Anita Madhav earned her dental degree from the Oklahoma University College of Dentistry. Thanks to her rigorous residency program, she had the opportunity to help patients with diverse needs and learn the right steps in doing so in a short period of time. To learn more about her practice, you can contact her through her website.