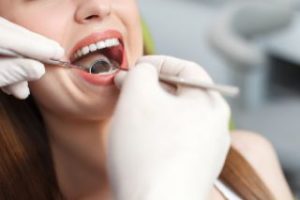 It's that time of year again! Time for making changes that improve your life – more commonly known as a New Year's resolution. But if you want to do something different than the usual exercise or weight loss plan, why not consider a dental cleaning plan instead? It's very common for people to put off getting dental care, but that has more serious consequences than you'd expect. Not only do checkups prevent the need for major dental work, but they also keep your entire body healthier as well. In this blog, you'll find out how a checkup is so much more than just a cleaning and why, when it comes to having a healthy smile, 2019 is a great time to turn over a new leaf!
How Do Checkups Prevent Bigger Problems?
You probably wouldn't associate your oral health with vehicle maintenance, but they're surprisingly similar. Everyone knows it's a bad idea to skip oil changes and other routine maintenance since it can cause engine damage or a breakdown.
Your oral health is much the same way because your teeth and gums also need occasional "tune-ups" to prevent bigger problems later, including:
Gum disease – Gum disease is very serious for two reasons: First, it's leading the cause of tooth loss. Second, researchers have found overwhelming evidence that it increases the risk for heart disease, stroke, Alzheimer's, pregnancy complications, and even some cancers. Regular checkups are a great way to prevent and/or manage gum disease.
Advanced oral cancer – At each checkup, both the dentist and dental hygienist visually inspect all your soft tissues looking for any lumps, bumps or lesions that might indicate oral cancer. As with all cancers, early detection is the key to successful outcomes.
Extensive dental work – It's safe to say that most people would rather avoid extensive dental work like dental crowns, bridges and root canals. When you get regular checkups, dentists can detect problems when they're small and easier to treat. For example, a small cavity can be found and repaired with an inexpensive filling before it's gotten larger and destroyed more tooth structure.
Dental Emergencies – With regular care, every aspect of your oral health is closely monitored so you'll be less likely to have untreated problems turn into emergencies. And when treatment is necessary, you can schedule when it's convenient for you, instead of having sudden pain during a busy workday, on vacation, or in the middle of the night.
Also, for patients with dental insurance, it's worth mentioning that most plans cover 80%-100% of preventive care like checkups, so you may as well take advantage of it!
Besides a Cleaning, What Else Does Your Checkup Include?
Sure, getting your teeth professionally cleaned and polished is a big part of your visit, but it includes much more than that:
Your medical history is reviewed and updated
X-rays are done annually or as needed to find problems as early as possible
Oral cancer screening
Annual gum evaluation
Oral hygiene instruction as needed
Dietary counseling as needed
Dental exam
Whether it's been years since your last visit or you've only skipped a checkup or two, why not make 2019 the year to achieve your best smile yet!
About the Author
Dr. Anita Naik Madhav is a general, cosmetic and restorative dentist in Plano with 25 years of experience. In that time, she's found that patients who get consistent dental care need less major dental work than those who don't, which is why she encourages everyone to get regular checkups. If you have any additional questions or want to schedule a visit, she can be reached via her website or at (972) 618-1111.