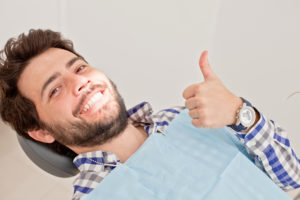 This year, it's estimated that nearly 50,000 people will be diagnosed with oral cancer, and forecasts suggest 20% of the cases will be fatal. To address this growing problem, dentists around the country have designated April as National Oral Cancer Awareness Month, a time set aside to emphasize the importance of visiting a local dentist for an oral cancer screening in Plano and performing excellent oral hygiene. Read on to learn more about how you can protect yourself!
How Does Oral Cancer Start?
Oral cancer usually starts growing in the flat cells that cover the mouth, tongue and lips, and studies show it can be brought on by the following:
Tobacco use
Over-exposure to the sun
Heavy alcohol consumption
A high consumption of sugar
A diet high in processed ingredients
Another common contributor is untreated gum disease, which is caused by the accumulation of bacteria. If any of these conditions apply to you, it's even more imperative to visit your local dentist for preventive care.
What Happens at a Preventive Care Visit?
At a typical six-month dental visit, there are three key components that contribute to the prevention and early identification of oral cancer.
Cleaning
The professional cleaning provided by your dental hygienist will remove harmful plaque and tartar that otherwise couldn't be addressed. By having these agents of chaos cleared away, you can better protect yourself from the development of oral cancer.
Examination by the Dental Hygienist
The hygienist will also perform an oral examination to identify any signs of tooth decay or gum disease. Through early identification, any threats can be eliminated before they develop into cancerous cells.
Examination by the Dentist
A second examination will be performed by your dentist, which will include an oral cancer screening. This is critical to have done because with early detection and treatment, statistics show the five-year survival rate is 75%. However, if oral cancer is treated after it has become more aggressive, the survival rate drastically decreases to 20%.
Another Way to Protect Yourself
This month, you have an excellent opportunity to "turn over a new leaf" for your oral health by also committing to performing dental hygiene consistently. That means you should be brushing and flossing your teeth at least two times a day to remove debris and bacteria that could compromise your oral and overall health.
By taking heed to everything you've learned and visiting your dentist in Plano for preventive care, you're better ensured a healthy, productive and happy life!
About the Author
Dr. Anita Madhav earned her dental degree from the Oklahoma University College of Dentistry. Throughout her career, she has maintained a commitment to upholding the traditional values of honesty, integrity and trust that were instilled in her as a child. Dr. Madhav helps patients avoid oral cancer by providing preventive care at Preston Bend Dental, and she can be reached for more information through her website.