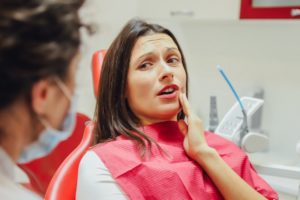 According to the American Association of Endodontists, more than 15 million root canals are performed in America each year. You may not have looked forward to undergoing root canal therapy but having to repeat the procedure is even less desirable. As with any medical treatment, root canals are not 100% effective and several factors may lead to the reinfection of your tooth. In this post, your dentist explains the symptoms of a failed root canal and how to prevent complications in the first place.
What is a Root Canal?
Root canal treatment is used to repair and save a badly a decayed or infected tooth. During the procedure, the tooth's nerve and pulp are removed and the inside is cleaned and sealed. A crown is often placed on top of the tooth for protection as well as to restore it to full function. It prevents further infection, bone loss and the formation of abscesses in your gum's tissue.
How Do I Know if It's Failed?
The symptoms of an unsuccessful root canal may be similar to what you felt when you first needed the procedure. This includes:
Pain: If pain lingers for more than a few days after the procedure it can mean that bacteria and infection have returned. This includes any discomfort, but most commonly occurs when you bite, close your mouth or have direct force applied to the treated tooth. If your tooth feels better but then begins to hurt again, it can also be a sign of relapse.
Swelling: If your face or the inside of your mouth swells for more than a few days after your procedure, it can be a sign of reinfection.
Discharge: If you experience discharge from the treated tooth, it may mean that reinfection has occurred, and an abscess has formed. It's also possible to experience additional pain with an abscess.
How Do I Prevent Complications?
While it's impossible to completely prevent a medical complication, there are ways to lower the risk. Wait until the anesthetic from your root canal wears off before you eat and avoid hard foods for a while. Brush and floss daily after your procedure to keep the affected area clean. If your tooth hasn't been fully restored with a crown yet, don't chew with or bite down on it. Make sure to take your medication as directed.
Root canals may seem like a scary procedure, but they're a necessary step in maintaining your oral health. Reach out to your dentist in Plano immediately if you think that your tooth has become reinfected.
About the Author
Dr. Anita Madhav has over 20 years of experience practicing dentistry. She studied at the highly selective Advanced Education in General Dentistry residency program. If you have further questions about root canals, she can be reached through her website or at 972-618-1111.