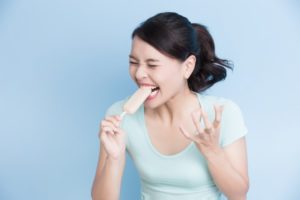 It has begun to happen too frequently; you're going through your day as normal, and then you're suddenly hit with sharp tooth sensitivity. You'd like to stop these bouts of uncomfortable jolts, but your budget is a little tight right now. Are there any cost-effective methods you can implement into your everyday life to help the situation? Your dentist in Plano says, "Yes!" Read on to find out 3 ways to effectively respond to tooth sensitivity and to prevent future flare-ups!
#1 – Chew Sugarless Gum
The primary cause for tooth sensitivity is enamel wear. This hard outer layer of material has no nerves, so if you're experiencing tooth sensitivity, it means a portion of your dentin (which has nerve activity) that lies beneath the enamel is being affected.
If you typically chew gum, then you may consider switching to a sugarless brand. That's because sugar attracts oral bacteria, which can aid in exposing more dentin.
#2 – Use a Different Type of Toothpaste
Another option for responding to tooth sensitivity is to switch to toothpaste that is formulated for sensitive teeth. Usually, this type of product will contain less abrasives and anti-sensitivity ingredients.
In addition to changing the type of toothpaste used, you may also consider purchasing a toothbrush with softer bristles. Then, when you're brushing your teeth, be sure to use caution to limit damage to your enamel.
#3 – Make Diet Changes
Making changes in your diet can also significantly reduce tooth sensitivity. Here are some key pointers worth implementing:
Maintain a diet higher in protein-rich foods like eggs, poultry and fish. These items also contain a substantial amount of phosphorous, a mineral that is important in the maintenance of healthy tooth enamel.
You can also incorporate more tea into your beverage consumption. As a natural suppliant of fluoride, it can help to strengthen your enamel and prevent premature wear.
Don't Forget About Your Dentist
While all of the above are cost-effective ways to address tooth sensitivity, the best route to take is to visit your family dentist to be examined. The American Dental Association recommends that you receive a cleaning and checkup every six months to maintain excellent oral health.
These visits, which only take around an hour of your time, provide the most cost-effective way to identify any unfavorable developments early so they can be "nipped in the bud" before they can mushroom into bigger problems. To have the peace-of-mind of knowing your oral health is protected, reach out to your family dentist in Plano to schedule a visit today!
About the Author
A graduate of the University of Oklahoma College of Dentistry, Dr. Anita Madhav brings a fervor and drive to her office every day, which allows her to help patients realize their best oral health. For nearly 20 years, she has been a fixture in the Plano area, providing care in a state-of-the-art facility. Dr. Madhav helps patients overcome tooth sensitivity and enjoy beautiful, healthy smiles at Preston Bend Dental. She can be reached for more information through her website.