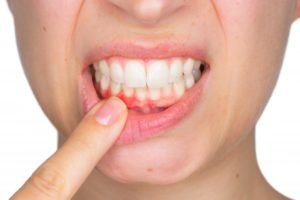 Oral sensitivity can be brought on by several factors, ranging from poor dental hygiene habits to enamel wear. When it comes to your teeth and gums, the effects can manifest differently, though. To prevent any confusion, a local dentist discusses sensitive gums vs. sensitive teeth. As you continue reading, you'll learn what individual indicators to look for, what habit changes you can make and how a dentist can help you recover.
Gum Sensitivity Explained
Metaphorically speaking, the gums are similar to soil, which contains the essential ingredients necessary for a plant to grow. Such is the case with gum tissue, as it's where the vital nutrients and blood needed to keep teeth healthy and strong can be found.
Poor oral hygiene that allows the growth of bacteria can lead to a condition called gingivitis, which is the first stage of periodontal (gum) disease. One of the usual indicators of the condition is gum sensitivity, as well as bleeding and puffiness. If you notice any of these symptoms, then you should bring it to a dentist's attention so you can be examined and treated.
How Tooth Sensitivity Differs
The obvious difference between gum and tooth sensitivity is the location of the issue. However, there can be other contributors at play. The following lists some of the possible causes of tooth discomfort:
Cavities
Loose fillings
Gum disease
Tooth fractures
Receding gums
Worn tooth enamel
Exposed tooth dentin
To prevent any guessing and to have the problem accurately diagnosed and treated, if you're experiencing tooth sensitivity, it's a good idea to pay a dentist in Plano a visit.
Treatment and Prevention
Any dentist will tell you that prevention is always the #1 way to preserve your oral health. One of the primary ways to prevent gum or tooth sensitivity is to practice excellent oral hygiene, which should include brushing and flossing at least two times a day. You should consider using a toothbrush with soft bristles to protect your gums and tooth enamel.
It's also helpful to monitor your intake of highly-acidic foods and beverages like lemons, limes, candy, wine, soda and juices, as they can contribute to tooth sensitivity. Then, by visiting a dentist every six months for preventive care, which includes a cleaning and examination, you can have the assurance that your oral health is up to par.
Depending on the specific cause of your sensitivity, a dentist may recommend using a desensitizing toothpaste, to undergo root canal therapy or to receive treatment for gum disease. The good news is that with professional care, you can recover, make the necessary adjustments and get back to leading a normal life.
About the Author
A fixture in the Plano area for nearly 20 years, Dr. Anita Naik Madhav earned her dental degree from Oklahoma University College of Dentistry. While one of her primary aims is to help patients avoid dental mishaps by providing preventive dentistry, Dr. Madhav also provides comprehensive care to help them recover from tooth or gum sensitivity. She treats patients at Preston Bend Dental, and she can be reached for more information through her website.