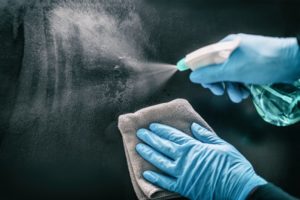 Are you worried about visiting your dentist in Plano due to the threat of COVID-19? Fortunately, your dentist's office is one of the safest places you can visit at the moment because they're taking dozens of precautions to prevent the spread of COVID-19 and protect patients and staff. If you're worried about scheduling a checkup and cleaning or getting the dental care you need, read on to learn more about five new precautions being made to prioritize your safety.
Personal Protective Equipment
Along with requiring patients to wear masks into the office, dentists and staff will also be wearing personal protective equipment to reduce the risk of droplet spread. This includes mask, gloves, eye protection, and other protective layers to ensure patient safety. Each of these will be changed out or sanitized between each patient's appointment as well. In addition, dental staff will also receive additional training to be more conscious of face-touching, touching surfaces, and hygiene practices to ensure that proper PPE is effective and safe for patients.
Frequent Sterilization & Disinfection
With frequent sterilization and disinfection between patients using CDC-approved methods and products, the dental staff is able to kill all germs and viruses that may have contaminated the area and prepare it for the new patient. In addition to surfaces, your dental practice will also be continuing to use CDC-approved instrument sterilization methods to kill any viruses or bacteria lingering on these tools.
Spread-Out Patient Scheduling
In order to accommodate the additional sanitation protocols, your dentist is seeing fewer patients throughout the day and spreading out appointments. This also limits the amount of traffic that goes through the office and helps minimize any patient-to-patient interaction and potential cross-contamination.
Patient Pre-Screenings
In addition to thinning out appointment schedules, the front desk assistant will also be pre-screening patients over the phone. That means that when you call to schedule an appointment, you'll be asked a series of questions to identify whether you or someone you've had recent contact with has experienced any of the most common symptoms of COVID-19. If so, you should cancel your appointment and reschedule it after waiting for at least two weeks. When you reach the office, your dentist will also take your no-touch temperature as well.
Regular & Frequent Hand Hygiene
The CDC and WHO state that one of the best defenses against COVID-19 is frequent and thorough hand hygiene. This includes a five-step process outlined below:
Washing hands for at least 20 seconds.
Thoroughly washing each crevice.
Completely drying hands with a paper towel.
Not wearing any hand jewelry or fake nails.
Washing at appropriate times.
With these five dental safety protocols in place, you can rest-assured that you'll be able to receive high-quality dental care without putting your health in harm's way.
About the Author
Dr. Anita Madhav was born and raised in Lusaka, Zambia and left her home in 1988 to pursue her dreams to become a dentist. She is passionate about uplifting her patients by providing them with the education and tools they need to optimize their oral health and improve their overall wellbeing. She regularly completes advanced education courses and is dedicated to providing patients with diverse needs the best comprehensive care. For questions or to schedule an appointment, visit Preston Bend Dental's website or call 972-618-1111.