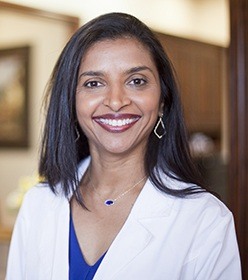 While the name of the Seattle Study Club might make it seem like it is exclusive to one city, the club is actually an international network of dentists. Its goal is to promote clinical excellence and help its members stay at the forefront of their profession. Dr. Anita Madhav has greatly enjoyed her time as a member of the club's local chapter, and the club has enjoyed having her as well. In fact, it recently published a Q&A feature about her in the Seattle Study Club Journal. She answered some questions about her life, her interests, and her views on dentistry. In this blog post, we'll talk about the feature and its contents. We hope you enjoy getting to know your dentist in Plano a little better!
Dr. Madhav and COVID-19
Dr. Madhav has had to make some adjustments in both her professional and personal life to cope with a world where COVID-19 is a serious threat.
How Has She Been Staying Sane During the Quarantine?
When the study club asked Dr. Madhav about this, she said, in part, "I've been working in the garden and doing a lot of baking. I had some girlfriends over one morning for brunch and we all wore masks and stood six feet from each other…until the lemon blueberry scones came out of the oven!"
How Has COVID-19 Affected Her on a Professional Level?
Our practice was recently closed for a few months, and when we reopened, our entire team had to make some big adjustments. Dr. Madhav said, "There was a learning curve—my loupes and light kept pushing my face shield off… The thing that annoys me the most about doing dentistry with all this garb on is that I can't smile at my patients… I'm working on creating a new model for the patient experience."
Dr. Madhav and Dentistry
Dr. Madhav loves her job, but she didn't know until she was already an adult that dentistry was her calling. She said, "It wasn't until the second semester of college that I started thinking of what career I wanted to pursue." After she figured out what she didn't want to do, she took a tour of a dental school and decided to embark on her career path.
She made the right decision! When the study club asked her what she enjoys most about being a dentist, she replied, "One of my favorite things is changing people's lives by changing their smiles…. I love my patients… I have many long-term patients who have become like family. I am incredibly lucky in that regard."
We've discussed just a few highlights of Dr. Madhav's Q&A with the Seattle Study Club. If you'd like to learn even more about her, click on the link in the first paragraph of this article. You'll also find her recipe for blueberry lemon scones!
About Our Practice
Dr. Anita Madhav is proud to be a leader of the talented team of professionals at Preston Bend Dental in Plano. We provide comprehensive care in a safe, clean, and welcoming environment. We have strict protocols in place to protect our patients from COVID-19. To learn more Dr. Madhav, our services, or our anti-COVID-19 precautions, contact us at 972-618-1111.