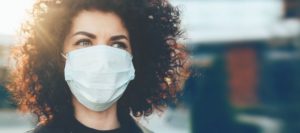 The most common symptoms of COVID-19 are shortness of breath, dry cough, and fever. While anyone can get sick, some people can develop severe, life-threatening complications. According to the Centers for Disease Control and Prevention, there are several factors that can put you at a higher risk of getting seriously ill from the novel coronavirus, including older age, weakened immune system, and underlying health conditions. Your Plano dentist answers five common questions from at-risk patients about staying healthy during everyday life in the COVID-19 pandemic.
1.) How Does the CDC Recommend Protecting Myself from COVID-19?
There is currently no vaccine for COVID-19, so the best way to protect yourself and others is to reduce your exposure to it. The CDC recommends:
Staying at home and limiting your exposure to those who don't live with you.
Practicing social distancing and covering your nose and mouth while out in public.
Thoroughly and frequently washing your hands throughout the day.
2.) What's the Best Way to Get Groceries?
The less contact you have with others when getting groceries, the safer you'll be. If you can, consider having your groceries delivered to you. However, curbside pickup options with little to no contact with employees or customers is a good choice as well. If you choose to shop in person, look for a store that offers shopping hours for at-risk customers only.
3.) What Precautions Should I Take When Ordering Takeout?
Thankfully, there are no indications that COVID-19 can spread through foods or drinks. Similar to groceries, the ideal method of ordering takeout would be to have it delivered via contactless delivery. However, drive-thrus and curbside pickup options that allow for minimal interaction with others are a good choice as well. When ordering from a restaurant that requires you to come inside to pick up your meal, be sure to avoid touching any high-traffic fixtures like doorknobs, service counters, and pens.
4.) How Can I Safely Pick Up My Prescription Medications?
To protect themselves and their at-risk customers, many pharmacies are encouraging the use of drive-thru, curbside pickup, or home delivery services. If your regular pharmacy doesn't offer these options, you can switch to one that does or a mail-service pharmacy. Simply call your health care provider and request that your prescriptions be sent to the pharmacy of your choice.
5.) Should I Still Go to My Doctor or Dentist Appointment?
To see if you should still come in for your appointment, you should call your health care provider directly. If you are an at-risk patient, your doctor or dentist may deem it safer to reschedule your appointment or change it to a virtual visit. However, some appointments are important to your ongoing health and require a trip to their practice. In these cases, you can rest assured that your doctor or dentist is taking every precaution to keep you as safe as possible during your visit.
The best way to keep yourself, your loved ones, and the entire community safe is to follow the three key recommendations from the CDC. Limiting your exposure, practicing social distancing, and regularly washing your hands are three simple yet highly effective ways to stay healthy in your everyday life during the COVID-19 pandemic.
About the Practice
At Preston Bend Dental in Plano, TX, nothing is more important than the wellbeing of our patients and their families. Our experienced team of dental professionals is monitoring the COVID-19 pandemic and the recommendations set forth by the CDC carefully. As more information about the novel coronavirus becomes available, they adjust our ambitious infection control and dental safety practices accordingly. If you would like to learn more about what we're doing to keep you safe, feel free to contact us via our website or at (972) 618-1111.