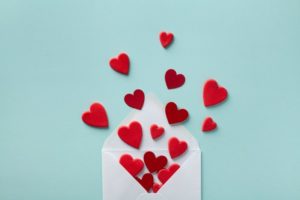 Growing up, you probably enjoyed your fair share of candy conversation hearts and other sweet treats on Valentine's Day. While a box of chocolates or assorted sweets can be delicious, their high sugar contents can also wreak havoc on your teeth. How would you like to be able to give your loved one something unique and different this Valentine's Day that won't pose a risk to their oral health, but still communicate how much you care for them? Keep reading to learn some smile-friendly gifts that your Plano dentist suggests you give your Valentine this year so that you can keep both their heart and their teeth happy.
Five Valentine's Day Gifts Your Dentist Would Approve Of
There are plenty of ways other than giving candy and sweet treats to show your special someone how much they mean to you. This Valentine's Day, here are some gift ideas that won't pose a risk to their oral health, and they're bound to still enjoy them:
Solid Dark Chocolate
If your loved one is a "choco-holic" and just can't go without it on Valentine's Day, consider giving them dark chocolate. Compared to its counterparts, white and milk chocolate, it contains around two grams of sugar as opposed to five or six per serving. Keep in mind that if dark chocolate contains fillings such as sticky caramel or sugary syrups, these can heighten the risk of cavities.
Relaxation and Self Care
Is your partner a hard worker who rarely finds time to treat themself? The gift of a spa treatment or a massage could be just the thing for them! Not only is it something that can't negatively affect their oral health, but it can enhance their emotional and overall physical health.
A Brighter Smile
No matter how beautiful your Valentine's smile is, brightening it up a bit is likely something they wouldn't turn down. Professional dental whitening has a proven track record, and it's something that their dentist can do quickly and efficiently – no more wasting money on over-the-counter strips and gels that won't actually work. Give them the gift that keeps on giving through teeth whitening to show your love this Valentine's Day.
Fruit
Does your sweetheart have a "sweet tooth?" If so, consider giving them the gift of a beautiful fruit tray or display this Valentine's Day. Fruit will not only curb that sugar craving, but the vitamins and minerals in it are great for keeping teeth and gums healthy.
Plants or Flowers
Easy on the eyes and on the smile, a lovely plant or bouquet of flowers are a great Valentine's Day gift option. While flowers only last for a while, plants can last much longer if cared for, providing a regular reminder to your loved one about your thoughtfulness.
This Valentine's Day get creative with your gift ideas, and instead of going the traditional route with a box of chocolates, show your loved one how much they mean to you by taking care of their heart and their smile!
About the Practice
The team of experts at Preston Bend Dental is committed to providing focused and long-term care to each of their patients. Dr. Madhav brings extensive training in all aspects of dentistry to the table. Her number one priority is it make sure each of her patients feels at home at her practice and knows they are in good hands. Are you ready to schedule your next dental checkup? Request an appointment online or call (972) 618-1111.