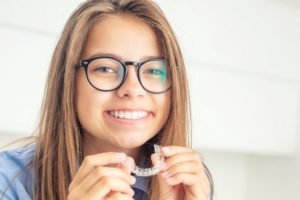 Is your smile crooked, but only partially? If so, you may have been wondering, "Can I get Invisalign on just my top teeth?" After all, Invisalign clear aligners are much more convenient and comfortable than bracket-and-wire braces. The good news is that it is possible to only wear the aligners on either your top or bottom teeth. This is known as single-arch Invisalign treatment. However, there are certain risks that come with this solution. Read on as a Plano dentist explains what you need to know about getting Invisalign on just your top or bottom teeth.
How Invisalign Works
Typically, the Invisalign process starts with your dentist creating a series of clear plastic trays, called aligners. You'll wear each set of these aligners, designed to shift a small section of your smile, over your teeth for 20 to 22 hours a day for a couple of weeks. Then, you'll switch to the next set until all of your teeth are in their desired positions.
The process isn't that much different for single-arch treatment, besides the fact that you'll only be wearing one tray rather than two. You might be able to move onto the next pair sooner than you would otherwise. It's worth noting, though, that not everyone is eligible for this option.
Can I Get Invisalign on Just My Top or Bottom Teeth?
It's certainly possible. However, single-arch Invisalign treatment cannot fix all of the orthodontic problems that traditional treatment can. For example, correcting overbite and underbite almost always requires aligners to be worn on both the top and bottom teeth.
That said, the only way to know if you can get Invisalign on just your top or bottom teeth is to schedule a consultation with your dentist. In many cases, single-arch Invisalign treatment can fix:
Small gaps between teeth
One or two teeth that have shifted out of alignment
Slightly crooked front teeth
Relapse from previous orthodontic work
The Risks of Single-Arch Invisalign Treatment
Moving only your top teeth can even out your smile, but it may negatively affect your occlusion – the way your top and bottom teeth come together. Throughout your treatment, you'd have to carefully follow your dentist's guidelines. Otherwise, you may develop bite alignment issues (overbite, underbite, crossbite, open bite, etc.), which can lead to teeth grinding, TMJ disorder, toothaches, and difficulties eating. If, however, you're only correcting minor alignment issues in a single arch, your dentist should be able to closely monitor the movement of your teeth and ensure the safety and effectiveness of your treatment.
Getting Invisalign on just your top or bottom teeth can help you achieve your smile goals, but it's not suitable for everyone. To find out which orthodontic solution is right for you, contact your dentist and set up a consultation.
About the Author
At Preston Bend Dental, Plano dentist Dr. Anita Naik Madhav uses her extensive training in many areas of dentistry to help her patients achieve and maintain smiles they can be proud of. She offers Invisalign clear braces and can determine whether you need it on one or both arches. To find out more, you can request an appointment online or call (972) 618-1111.