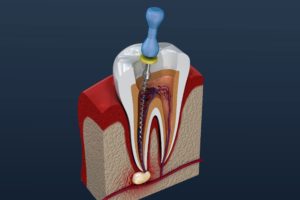 Every tooth is essential to a healthy smile; however, it's not uncommon for a tooth to become compromised over the years, such as from decay, infection, or trauma. Your dentist can rehabilitate a severely damaged tooth with root canal therapy. Although the treatment is only used as a last resort, the American Association of Endodontics reports over 25 million root canals are performed annually because it has a 97% success rate. If your dentist has recommended the procedure, it's best to get it right away to save your tooth, but there's probably one question on your mind – are root canals painful? Despite their bad reputation, the treatment is virtually pain-free thanks to innovations in dentistry.
What is Root Canal Therapy?
Root canal therapy is a treatment that extracts the inner layer of the tooth, called the pulp. This is often necessary when a tooth is infected. Although the pulp is necessary while the tooth is still forming, a tooth can survive without it once it has fully developed. With root canal therapy, your dentist can save a tooth rather than extract it.
Are Root Canals Painful?
You've likely heard a few horror stories about painful root canal procedures, but you don't have anything to fear. While they aren't completely painless, you'll experience minimal discomfort. Your dentist will use a local numbing agent to block pain signals. In some cases, they may also use a sedative, so you won't feel anything during the procedure.
After the effects of the numbing agent dissipate, it's normal for your tooth to be a bit tender for a few days. You can easily manage it using an over-the-counter pain reliever. Your dentist will also recommend eating softer foods until your discomfort ceases.
What Can I Expect?
Following your initial consultation, you'll be scheduled for your procedure. Once your mouth is numb, your dentist will begin by opening the crown of your tooth to remove the pulp and any areas of damage. They'll clean out the root chambers and sterilize it before sealing the tooth with a special material called gutta-percha. Your dentist will likely suggest placing a dental crown over the tooth. It provides an added layer of protection while also restoring its integrity and appearance. Rest assured, the restoration will look like a natural tooth because modern crowns are made of porcelain or ceramic to blend in with your smile.
Save Your Smile with a Root Canal
Don't let anxiety about dental pain prevent you from saving your tooth. Your dentist strives to keep you comfortable while providing the state-of-the-art care you need to maintain a healthy, beautiful smile.
About Dr. Terrel R. Myers
Dr. Myers earned his dental degree from the University of Mo-Kansas City School of Dentistry before continuing extensive training in full mouth reconstruction. He has over 30 years of experience in cosmetic, restorative, and implant dentistry. If you have a problematic tooth, contact our office today to see if a root canal can stop your pain.