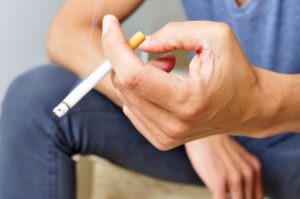 Dental implants have quickly become the preferred solution to treat tooth loss because they closely function like real teeth, but that's not their only benefit. Unlike traditional bridges and dentures, dental implants can last for decades with the right care because they offer the most reliable results. According to the American Academy of Implant Dentistry, they have over a 95% success rate. Although they can thrive for 30 years or more, several factors affect their lifespan. Don't let simple mistakes cause your new smile to fail. Here are 4 bad habits to break to ensure your investment lasts for a lifetime.
1. Poor Oral Hygiene
After your mouth has healed, don't ease up on your oral hygiene habits. A preventable infection called peri-implantitis is a leading cause of dental implant failure. Unfortunately, 1 in 6 implants will have peri-implantitis after 11 years, but you don't have to let your smile become another victim of the infection. You can keep failure at bay by brushing after every meal, flossing nightly, and using an antimicrobial mouthrinse daily.
2. Skipping Routine Dental Appointments
Although dental implants aren't subject to tooth decay, you shouldn't skip your semi-annual cleaning and checkup. Besides removing any buildup that can cause peri-implantitis, your dentist will also examine your smile to look for any concerns, like gum inflammation. They'll provide the necessary intervention you need to avoid dental implant failure.
3. Smoking or Heavy Drinking
Tobacco and nicotine can cause healing complications, which means your jawbone may not fuse to the post. Smoking also hinders your body's ability to fight infections. The Journal of American Dental Association reports smokers to be twice as likely to experience dental implant failure than nonsmokers. Heavy alcohol consumption can also affect your body's natural defense system. A study evaluating implants placed between 2006 to 2012 found heavy alcohol consumption increased the failure rate by up to 200%. It's best to kick the habits to protect your dental implants from avoidable complications.
4. Grinding and Clenching
Although dental implants are durable, they aren't any match for the pressure of grinding and clenching. Bruxism causes unnecessary stress, which can damage your dental implants or any remaining natural teeth. The rate of survival decreases to 70-72% after just 5 years without treatment. Thankfully, your implant dentist can give your smile the protection it needs. A nightguard provides a cushion between your upper and lower arches to absorb the friction. Your dentist will also recommend stress-relieving exercises to reduce the occurrence of bruxism.
Don't place your new smile at risk. Commit to healthy oral habits to enjoy a complete, beautiful smile for a lifetime.
About Dr. Terrel R. Myers
Dr. Myers earned his dental degree from the University of Mo-Kansas City School of Dentistry before completing extensive training in full mouth rehabilitation at the Pankey Institute. He has over 30 years of experience in implant dentistry. If you need a qualified implant dentist you can trust, contact our office today for an appointment.