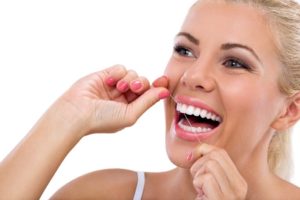 If you're ready to start your journey to a straight smile, your oral hygiene is more important than ever when using clear aligners. You don't want any unexpected dental problems to delay your treatment, like cavities or gum disease. Not to mention, you need to keep your teeth and aligners clean to maintain their translucent appearance; however, brushing isn't enough. Here's why flossing with Invisalign is vital to the success of your new smile.
Why is Flossing Important?
Besides brushing, the American Dental Association recommends daily flossing because at least 50% of adults have gum disease. It's one of the leading causes of tooth loss, but the risks don't stop there. The preventable infection can lead to several serious health issues, like heart disease. Flossing is the only way to remove plaque and food particles left behind by your toothbrush.
Flossing is crucial with Invisalign because your risk of decay and gum disease increases if you aren't proactive about your dental hygiene. The aligners can trap food debris and plaque against your teeth and gums, wreaking havoc on your oral health. It can also cause your aligners to smell or tarnish their appearance.
How to Floss with Invisalign
Since Invisalign is removable, your oral hygiene routine is virtually unchanged. Although there aren't any brackets or wires to clean around, you want to ensure you're flossing correctly. After brushing your teeth and rinsing your mouth, here are the steps to take to ensure your flossing routine is effective:
Choose the Right Floss
There are various types of flossing products on the market, but the traditional method is effective, affordable, and convenient. It's best to choose a floss that has earned the American Dental Association's Seal of Acceptance, which means it has undergone voluntary testing for safety and effectiveness.
Use the Correct Techniques
Flossing may seem self-explanatory, but simple mistakes can leave a lasting mark on your smile. Use 18 inches of floss that's wrapped around your index fingers, leaving a space of about 6 inches. Gently slide the floss between two teeth and form a "C" shape around one tooth. Maintain this shape as you run the floss down to the gum line and back up.
Repeat
Repeat the process for every tooth. Reducing bacteria misses by your toothbrush will prevent odors and preserve your aligners' discreteness.
It is best to brush and floss after every meal before putting your aligners back in your mouth.
Don't Forget to Clean Your Aligners
Besides keeping your mouth clean, don't forget about your aligners. Use a soft-bristled toothbrush and a mild clear hand soap to clean all surfaces of your aligners. Committing to your oral hygiene will help you achieve your best smile.
About Dr. Terrel R. Myers
Dr. Terrel R. Myers earned his dental degree from the University of Mo-Kansas City School of Dentistry and has completed extensive continuing education at many prestigious centers, including the Pankey Institute. He has over 30 years of experience in cosmetic, restorative, and implant dentistry. Contact our office today to request your consultation for Invisalign.