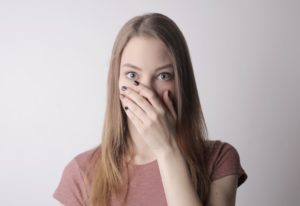 Are you embarrassed by tooth discoloration? You aren't alone. Thankfully, you have several solutions to achieve a bright, confident smile. Although teeth whitening is a common method of improving stains, it isn't effective on all types of discoloration. Don't worry, you aren't out of options. You may be a candidate for veneers; however, it is a more invasive treatment. Your cosmetic dentist can help you achieve the smile of your dreams using a personalized treatment plan.
Benefits of Teeth Whitening
Professional whitening treatments can get teeth up to 8 shades whiter after a single appointment. Highly concentrated whitening agents penetrate the enamel to dissolve stains caused by aging, poor oral hygiene, smoking, or frequently consuming dark foods and drinks. Your results can last for several months to many years, depending on your aftercare routine.
Although whitening treatments can provide a significant improvement when used on surface stains, they aren't effective on all discoloration, like those caused by medications. Not to mention, your results won't be permanent, but you can protect your pearly whites with a solid oral hygiene routine at home, visiting your dentist regularly, and limiting your contact with stain-causing foods or drinks.
Benefits of Porcelain Veneers
A veneer is a custom-made thin shell that's applied to the front surface of a tooth to improve its color, size, and shape instantly. As a result, it can hide the most severe cases of discoloration, including those originating from the tooth structure. A whiter smile isn't the only benefit of veneers. When applied to the teeth most visible when smiling, they can fix chips, cracks, and gaps using a minimally invasive procedure. Since veneers are made of stain-resistant porcelain, your smile can stay bright and beautiful for 10 years or more with the right care.
Although veneers can create a vibrant smile, the procedure is more invasive than teeth whitening. A small amount of enamel must be removed from your teeth during the bonding process. Since your enamel can't grow back, it is a big commitment. However, you can address several aesthetic concerns at once, eliminating the need for multiple procedures. In as few as 2 appointments, you can have a flawless smile that can last for a decade or more.
Which is Right for Me?
Cosmetic dentistry is a big investment. Your cosmetic dentist will help you choose the best treatment for your needs and goals. After examining your mouth and learning more about the results you desire, they will create a personalized treatment plan.
A beautiful, bright smile is possible with the help of a dental professional. Take your first step toward better self-esteem by scheduling your consultation for cosmetic dentistry.
About Dr. Terrel R. Myers
Dr. Myers earned his dental degree from the University of Mo-Kansas City School of Dentistry and has completed advanced education at the Pankey Institute. He has regularly continued his training to provide specialty services, like cosmetic dentistry. Contact our office today to request your consultation with an award-winning dentist.