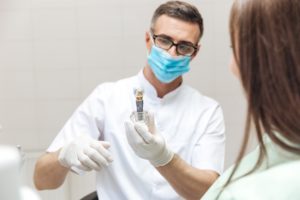 Dental implants are the most reliable method of treating tooth loss. They have over a 95% success rate and can last for 30 years or longer with the right maintenance, like brushing and flossing. Although dental implants can't get cavities, your home oral hygiene routine is essential to protect your investment. Besides brushing at least twice per day, your new smile relies on daily flossing to prevent an infection called peri-implantitis. Here's what you need to know about flossing dental implants to keep the infection at bay.
Peri-Implantitis and Dental Implant Failure
Dental implants are proven to last for decades thanks to the latest innovations in dentistry. They provide predictable results with a less than 5% risk of failure. However, their long-term success depends on various factors, like your oral health. A leading cause of dental implant failure is peri-implantitits.
Bacteria found in plaque and tartar buildup can infect the gum tissue. It is like gum disease, which means it can destroy your oral structures without any treatment. Over time, your jawbone can be compromised, causing your new smile to fail.
Flossing Prevents Peri-Implantitis
Flossing your teeth will protect your smile from peri-implantitis. Although you've been cleaning between your teeth for years, flossing with dental implants is a little different because they don't have periodontal ligaments. There aren't any nerves to signal you if you're pushing too hard on the gums. The seal formed with your gums and dental implants will be weaker than what's created with your natural teeth. Flossing too hard can break the seal, allowing bacteria to enter the gingival pocket and access the jawbone.
Flossing your replacement teeth should be done carefully to avoid pushing the floss too deep into the gum pocket. You'll use about 18 inches of high-quality floss to clean between your natural teeth and around your dental implants. Use a "C" shape when flossing to remove plaque and food particles.
As an alternative to traditional floss, many people find a waterflosser easier to use. A pressurized stream of water removes buildup gently, so you don't have to worry about damaging the gingival pockets.
Ensure Your New Smile Lasts
A solid oral hygiene routine at home is vital for the lifespan of your dental implants, but don't forget to visit your dentist every 6 months for a cleaning and checkup. They'll remove any buildup left behind by brushing and flossing. Your dentist can also detect any concerns early, like gum inflammation. Addressing the issue quickly can save your smile from failure. If you develop red, swollen, or bleeding gums between your routine appointments, contact your dentist right away.
About Dr. Terrel R. Myers
Dr. Myers earned his dental degree from the University of Mo-Kansas City School of Dentistry and has completed advanced training in many specialties, including dental implants. With over 30 years of experience in complex dental procedures, he has the qualifications you can trust to replace your missing teeth. Contact our office today to request your consultation.