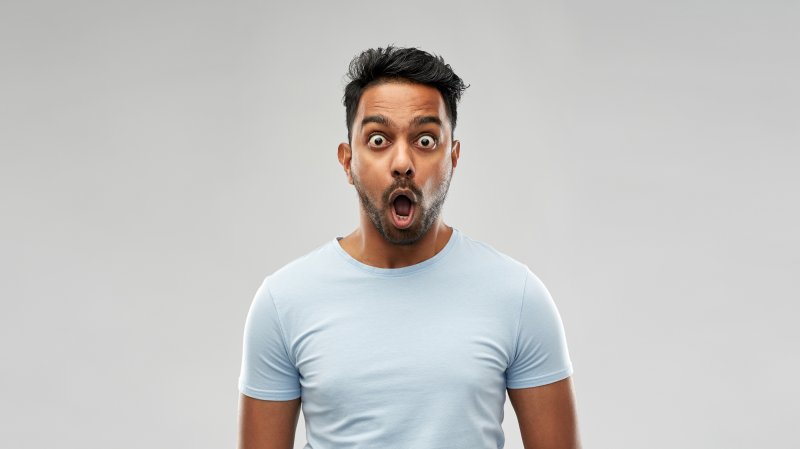 Boo! Many people love the fright of Halloween: the haunted houses, flying witches, and wandering zombies. But dental health can be spookier if we don't take proper care of it. Oral health issues are incredibly common among people of all ages. The good news is many of them are completely preventable. Here are some spooky statistics as well as tips to keep your smile bright and healthy!
Frightening Dental Facts
No need to go to a local haunted house to be scared by the ghoulish figure lurking in the corner. These shocking oral health statistics should do the trick:
Almost 18% of children ages 5-19 have untreated cavities
91% of adults have cavities, and 27% have untreated tooth decay
Roughly 50% of adults over the age of 35 have some form of periodontal (gum) disease
25% of adults 65 years and older have lost all of their teeth
About 40% of adults didn't visit the dentist in the past year
The average person spends only 48 seconds brushing their teeth
Over 32% of adults never floss their teeth
Spooktacular Tips for a Healthy Smile
While the above statistics are alarming, it's comforting to know that most dental problems–from tooth decay to gum disease–are preventable with consistent best practices in place. Here are some tips so you can keep your smile one in a million (now that's a statistic we can celebrate!):
Visit your dentist every six months for a checkup and cleaning
Brush your teeth with a soft-bristled toothbrush for two full minutes daily
Floss thoroughly on a daily basis
Complete your oral hygiene routine by rinsing with mouthwash
Limit your consumption of sugary foods and beverages
Eat a well-balanced, nutrient-dense diet and drink plenty of water
Avoid unhealthy dental habits, like smoking and chewing on ice
Scare Cavities Away This Halloween
Halloween brings so many joys, like dressing up in creative costumes and fun parties! But it also can lead you and your family to have more sweet treats than normal. To prevent tooth decay, set a certain daily limit so your teeth aren't constantly exposed to the cavity-causing acids that are created when bacteria in your mouth feed on sugary treats. Continue to practice good oral hygiene, as stated above, and drink plenty of water to wash away sugary particles from your mouth.
You can always have a healthy smile, even during the most sugary-season! Treat yourself to your most healthy smile by being mindful of these statistics and following best dental practices.
About the Practice
Preston Bend Dental serves the smiles of Plano and surrounding areas under the expertise of Dr. Anita Naik Madhav and Dr. Terrel Myers. They provide comprehensive family care through preventive, cosmetic, and restorative dentistry. With their focus on providing quality preventive care, your teeth will continue to be healthy and not become a scary dental statistic. To visit their office for your one-in-a-million smile, contact them through their website or by phone at (972) 905-4369.