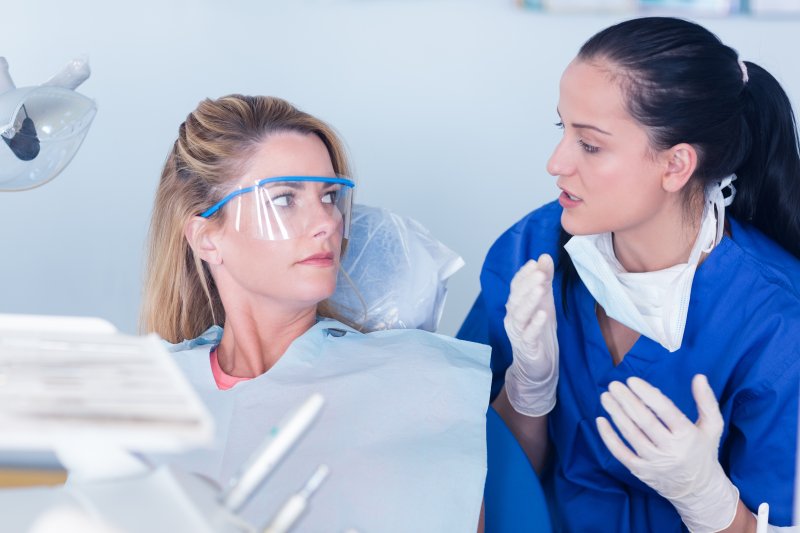 Dentures are removable appliances used to replace missing teeth and restore oral functionality and aesthetics. They are custom-made to fit the unique shape of an individual's mouth and can provide a natural-looking smile and improved chewing ability. If you're currently dealing with the discomfort and pain of denture sores, it may feel difficult to find relief. Continue reading to learn about the potential causes of these denture sores as well as what you can do to get rid of them.
What Causes Denture Sores?
Denture sores can be caused by various factors, with one common cause being pressure on the nerves and subsequent gum soreness after prolonged denture wear. Another factor is the unevenness of the gums beneath the dentures, requiring a properly fitted denture plate to accommodate the gum's bumps and irregularities.
Failure to achieve a proper fit may lead to irritation, discomfort, and pain. Additionally, gum soreness can result from swelling or inflammation caused by bacterial agents, which will necessitate appropriate treatment.
How Your Dentist Can Help
If you're experiencing gum puffiness, inflammation, or swelling, it's advisable to schedule an appointment with your dentist as it could indicate an infection requiring antibiotic treatment. Once the infection has been resolved, be sure to assess the comfort of your dentures. If the discomfort persists, consult your dentist so they can make the necessary adjustments for a better fit.
4 Home Remedies for Denture Sores
While waiting to see your dentist, there are several home remedies you can try to alleviate the pain and discomfort caused by denture sores. Here are a few suggestions:
Relieve the pain – Take over-the-counter pain medication as instructed on the bottle. You can also apply a numbing gel directly to sore spots.
Salt water rinse – For relief and faster healing of denture sores, you can create a saltwater rinse by combining 1/4 teaspoon of salt with 1/4 cup of warm water. Stir the mixture until the salt has completely dissolved. Swish the solution in your mouth for approximately 30 seconds, then spit it out. Repeat this process up to four times per day to alleviate discomfort and promote healing.
Give your mouth a break – To provide relief to your gums, it is recommended to remove your dentures every night and allow your gums to rest. Additionally, ensure proper hygiene by soaking your dentures in a clean, cool glass of water or denture solution overnight. This practice helps eliminate bacteria and keeps your dentures fresh and clean.
Practice good oral hygiene – To prevent the worsening of denture sores, it's important to maintain good oral hygiene. Before soaking your dentures, make sure to brush them every night to eliminate bacteria and remove plaque. Additionally, gently clean your gums using a wet washcloth.
Though denture sores are uncomfortable, there are several ways to avoid them. By following these steps, you can help keep denture sores at bay and promote overall oral health!
About the Practice
Preston Bend Dental, led by Dr. Anita Naik Madhav and Dr. Terrel Myers, is a trusted dental practice serving the community of Plano and neighboring areas. With a focus on providing high-quality dental care for the entire family, they offer denture solutions to address gaps or missing teeth, ensuring a complete and confident smile. Their experienced team can also assist in treating denture sores and provide valuable tips for their prevention. To explore more about dentures or to schedule an appointment, visit their website or call (972) 905-4369.