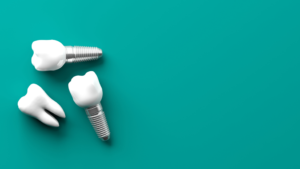 If you're familiar with dental implants, then maybe you've heard that they're considered the gold standard when it comes to replacing missing teeth. Thanks to their unique placement method directly into a patient's jawbone, they're capable of restoring total oral functionality in a natural-looking fashion. But since they're replacing teeth, does that mean that they're also vulnerable to all of the same unfavorable issues that can affect your pearly whites, like cavities? Keep reading to learn more!
Can Dental Implants Develop Cavities?
The simple answer here is that dental implants cannot develop cavities since they're not made of the same material as your natural teeth! Implants are made primarily from titanium, used for the embedded posts, and zirconia or porcelain, which are often used for the crown portion. These materials are totally safe and biocompatible, meaning they won't impact your oral health. However, they're also totally resistant to cavities and decay, unlike your natural tooth enamel.
Dental Implants Aren't Invincible
That said, even though dental implants are remarkably durable, resilient, and can't develop cavities, you're not off the hook concerning oral hygiene—they can still sustain damage, retain plaque buildup on their surface, or even loosen and fall out under suboptimal circumstances. One of the largest threats to dental implants is gum disease, since it can ravage the tissue surrounding the posts and can inhibit their fusion with the jaw. They can also simply break or fracture due to bad oral habits like biting into hard objects or using your teeth as tools. It also goes without saying that unfavorable habits like smoking and using tobacco can also compromise their integrity.
Tips for Keeping Your Implants Clean and Uncompromised
The good news is that you can easily protect your implants and ensure that they remain intact for the foreseeable future; in fact, dental implants can potentially last for a lifetime with proper care! Here are some tips to help make your restorations last:
Practice excellent oral hygiene by brushing and flossing your implants daily. Whether you have implants or not, this habit is quintessential in the ongoing fight against cavities and gum disease.
Watch what you eat; enjoy sugary or starchy items in moderation and opt for healthier choices—the right diet can go a long way towards preventing issues that might harm your implants.
Drink plenty of water, since it helps to stimulate your mouth's flow of saliva. This is your body's natural defense mechanism against oral bacteria.
Avoid bad oral habits like smoking, using tobacco, or frequently biting into hard objects.
Continue to visit your dentist for preventive care to help thwart underlying oral issues before they have the chance to worsen. This also allows your provider to inspect your implants for signs of concern—even though they might be immune to cavities, you wouldn't want another type of issue to remain unnoticed!
About the Practice
The team at Preston Bend Dental is excited to provide patients and families in the Plano area with an exceptional level of dental care! Under the leadership of Dr. Anita Naik Madhav, they're pleased to offer a wide variety of services including restorative options like dental implants for patients who are looking to rebuild their smiles and improve their overall quality of life! If you have any questions about dental implants or any of the services that the practice offers, feel free to reach out online or over the phone for further information. Telephone: (972) 618-1111.